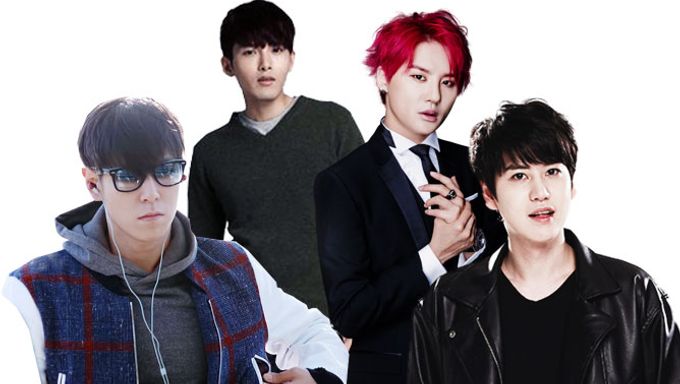 While Korean men should join the army to serve 21 months of compulsory military service, it's not always easy as celebrity guys to leave the public attention for that long.
The military service of male celebrities always being a sensitive subject in Korea. With Korea entertainment industry's rapidly changing trends and appearance of rising stars each year, there's no guarantee for the male stars that their career opportunities, fandom, popularity will not decrease. Enlistment is mandatory for Korean men because South and North Korea never signed a peace treaty. Many of Korean people enlisted in their early twenties, but celebrities tend to join the military before they turn 30 years old.
While Korea male celebrities and military duties are unavoidable subject matters, we tried grouping some of our favorite male celebrities who will probably enlist in the military in 2016. They all in the list were born in 1986, 1987, and 1988 and are likely to enlist this year.
BIGBANG TOP born in 1987
YG Entertainment's CEO, Yang HyunSuk, recently spoke up about BIGBANG's upcoming plans for enlisting in the military. "BIGBANG's biggest competitive edge is the impact of their solo activities. There is no need for all of the members to enlist at the same time." 
Who else will be there?
JYJ Kim JunSu born in 1987
"Going to the army is something you definitely have to do if you're a male citizen of Korea," said JunSu. He would be the final member of the trio to enlist. The other members, Kim JaeJoong and Park YooChun, began their mandatory military service in last March and August, respectively. Following them, he also plans to enlist this year, probably not immediately. 
Super Junior RyeoWook & KyuHyun born in 1987 and 1988
More Super Junior members are planning to officially enlist in the military soon. In the second half of 2015, three members SiWon, EunHyun and DongHae followed by SungMin enlisted. The makane line of Super Junior is also expected to enter following the end of their solo career this year. Ryeowook and Kyuhyun are the final members still needing to complete their enlistment and are expected to enlist sometime next year.