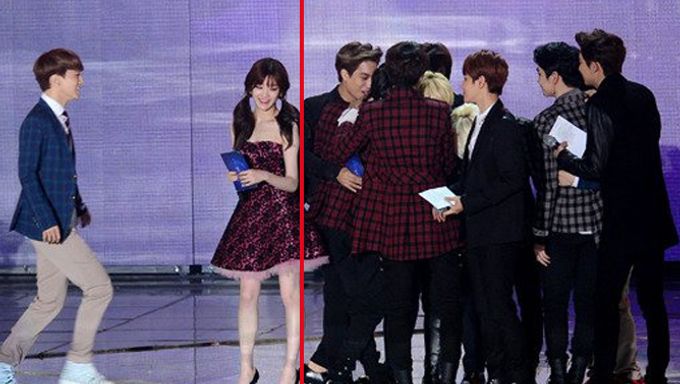 In the public eye most idol guys seem confident and self-assured, but in their personal lives that's not always the case. 
If you're a really shy person in front of the presence of the opposite sex , these situations below might not be strange to you. Because lots of K-Pop stars get all nervous and awkward to the opposite sex — just like you! Quite a few idol boys have admitted to actually being shy in real life, especially when they're around girls.
Of course, fans support their cold treatment towards female celebrities because they won't have to worry about their bias interacting with other celebrity girls. But some say that boy group members probably know some fans will go on a witch hunt if oppa gets to close to a female.
Must Read : f(x) Krystal Gets Along With Infinite L
Click through to see more guys who get nervous and frosty around girls, then let us know which one surprised you the most in the comments below.
10 Idol Boys Who Don't Interact With Other Girls
EXO KAI
EXO SeHun
EXO ChanYeol 
EXO Xiumin
EXO Lay
EXO D.O
BTS SUGA
VIXX Leo
VIXX Ken
BIGBANG SeungRi
Must Read : Male Idol Introverts Who Shake Their Shyness