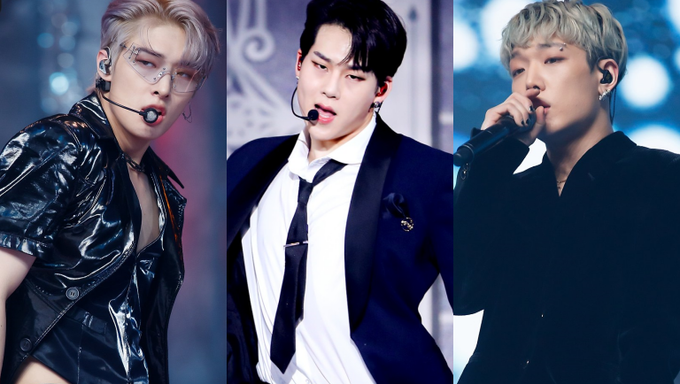 When it comes to rapping, K-Pop rappers are top tier, with many owning these skills and always delivering incredible and chill rap styles that often give goosebumps to fans and listeners.
With K-Pop idol rappers, there's a different level of confidence and enthusiasm that they possess. Charismatic, bold, fierce, and exciting, these are some of the adjectives that can describe a K-Pop idol rapper.
The rhythmic flow of rap has always been a key point to why fans gravitate towards the genre. A different feeling of excitement is experienced by fans when their favorite rap idols come bursting through during a performance and delivering their cool and thrilling rap verses/songs.
Even though there are many skilled K-Pop rappers these days, with each presenting something unique and interesting with their rap styles, there are still quite a few who can effortlessly and consistently deliver goosebumps and wow moments with their rap performances, and in this article, we are going to share some of our favorite idols who deliver some of the dopest rap flows in K-Pop right now. 
MinGi's mic is always on and his flows are just as on point. There is something so thrilling and mesmerizing about MinGi when he raps, his flows are so unique and captivating, he embodies the emotion of the song perfectly, and he has this presence, an aura that is so sensual and dominating when he holds the mic.
His ability to switch from a relaxed vibe to intense is shocking and surprising, to say the least. His MNET's "MAMA 2019" performance will go down in history as one of the best rap performances at awards shows. His rap style is sharp, clean, precise, rhythmic, and all-around very entertaining. 
If anyone rightly deserves to be on this list, then it has to be the master idol rapper himself. His delivery and level of artistry are iconic, to say the least.
It is the swagger, the smoldering looks, the smirks, the piercing eyes that pulls you into his performance, added up to iconic and memorable lyrics that even as difficult and fast-paced as they are, fans are somehow compelled to learn them just to be able to perform along with him. That is how powerful he is. His rap verses on 'Gambler', 'Love Killa', and 'Fantasia' were phenomenal. 
His flows are mesmerizing. Bobby is one of the most dynamic rappers in K-Pop, a skill that has propelled his popularity amongst fans and other idols. His rap flows and styles are outstanding, distinct, and unrivaled.
His flows can easily switch from slow and chill to fast and intense. His lyrics are clear and literate. His rap verses in 'Anthem' and 'Killing Me' vibrantly shows off his contrasting rap flows making him stand out in the midst of other proficient rappers.
Vernon fits the modern-day tag of a rapper with dope flows and urban style. Although he might have a little time to showcase his rap skills in seventeen songs, however, whenever he delivers his rap verses, we are in awe of how smooth and effortless he hits the mark with his flows.
His rapping style is so chill, laidback but still effective and his level of mastery, matching the beat of the song flawlessly with his flows is quite rare.
Modern, bold, smart, and trendy. He is heavily influenced by the hip-hop scene. His movements convey so much power and precision that gets you glued to him, his lines are sharp, and his adlibs are even better.
While he is still relatively new to the music scene, the rapper makes fans 'Feel Good' with his colorful flows and popping movements. It is clear the amount of practice and passion he has for his skill, and with every performance, you can easily track his growth.
Do HanSe is definitely on a mission to 'Take Over' and we can't help but fall in line and obey his every command. His aura is as electrifying and dominating as his rap flows.
Carefully creating his lane and inscribing his name in the idol rap books. The idol rapper is one to watch with his artistic flows and exhilarating performance style.
It's ChangBin's world and we are just living in it. The idol has one of the most distinct and unique sounds in K-Pop. His verses add that extra special ingredient that makes Stray Kids songs phenomenal. 
A song is honestly not complete without a robust infusion of ChangBin's rap verse. One of the most diverse and versatile rappers in the industry, his talent is limitless and his flows are breathtaking. It was a very smart move by the team to let him open up their hit songs like 'God's Menu' and 'Thunderous'. He immediately captures the audience and sets high expectations that are duly met by the rest of the members. It might be safe to say that "if ChangBin delivers the opening verse, then the song is a guaranteed hit".
He is skillfully talented. His rich tone amplified by his undeniable swagger amplifies how dope his flows are. With 'Color Eye' he enthralls listeners with what seems like an effortless and cool rap style, and when he says "You are beautiful", along with his fans, we have no other choice but to nod in acknowledgment and recognition of his clear message, resounded by his smooth rap flows. 
His rhythmic and catchy verses along with his clear passion for the genre are the perfect 'Cherry' on top of someone who is clearly a rap genius in the making.
He might be one of the maknaes on this list but he is a giant in his own right. The idol has the trendy American rap tone, an infusion that adds an extraordinary flavor to his verses. One of the most versatile rappers in K-Pop, his rap flows and styles are not overly forced, it feels natural, like an extension of himself.
His capacity to switch up his flows without skipping a beat or losing his trademarked swagger is something distinct and makes him one of the leaders in this genre despite his age.
His flows are smooth like butter and always blow out marbles like a stick of dynamite set off at the right time he starts delivering his rap flows. One of the most dynamic and unique rappers in the industry, his proficiency in conveying different styles so seamlessly, in tune with the different genres of music his group delves into each day is quite rare and speaks into his level of artistry.
Intense like Daechwata or soft and creamy like Butter, the idol can deliver the dopest flows for every tune and mood.