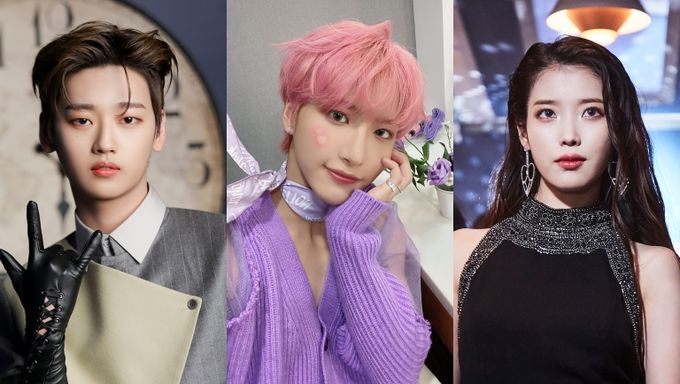 Halloween is right around the corner! It is a time for spooky things and make-believe. One of the most common worries for most people around this time is what to dress up as for Halloween.
A lot of K-Pop idols dress up for Halloween every year and fans wait eagerly to see them in their outfits.
Here are 10 K-Pop idols and the Halloween costumes we would like to see them try out. 
Note: This list is not a ranking. It has also been divided into male and female idols.
Male K-Pop Idols
SeongHwa should definitely dress up as the literal fairy that he is. Not only does his pink hair make him look mystical and that much more handsome, but his recent selfies in this purple outfit and holding flowers highlighted his fairy-like visuals even more.
ENHYPEN released prince-like concept photos for their recent comeback. The members all looked incredibly handsome, including SungHoon. However, it had us wondering how much more handsome SungHoon would look if he wore a traditional Prince Charming costume for Halloween. His visuals would be unmatched.
GOT7's BamBam is known as the king of memes because he uses them so often. He even has a habit of creating memes of his fellow GOT7 members. It would be interesting to see him bring a meme to life and walk around as one for Halloween.
Recently, WEi released photos looking sophisticated, edgy, and handsome. Kang SeokHwa wore a black glove as an accessory that had us thinking that he could pull off a Frankenstein outfit this Halloween. He would make Frankenstein uncharacteristically handsome. 
BM is one of the K-Pop idols known for his tall height and muscular body. He would definitely look good as any superhero he dressed up as and we'd love to see him bless our eyes as one.
Female K-Pop idols
6. IU - an angel
IU is already known for her angelic visuals. What better way to accent them than to dress up as an angel for Halloween? 
Miya would make a very attractive vampire. She has a certain charm that would look especially cool in a vampire get-up. It especially suits her because of how well she suits darker concepts.
8. SunMi - the Olivia Rodrigo "Sour" album cover
SunMi has the perfect mix of sass and quirk to pull off this unique sticker look. She would look adorable but sexy at the same time and make the album cover her own. SunMi has already tried some interesting makeup looks in the past, which is why this one would be perfect, too. Not only that, but it would be an interesting fusion moment between Western pop and K-Pop. 
Minnie suits dark concepts so well that we think she would look gorgeous as a witch. Not only would she pull it off but she would put everyone who looked at her under her spell.
aespa's recent comeback concept photos proved that the girls have princess-like visuals. Giselle especially looked like a princess in her outfit. We would love to see her dressed as a princess this Halloween to accent her beautiful visuals. 
Who is your favorite idol? Which costume would you like to see them wear this Halloween?