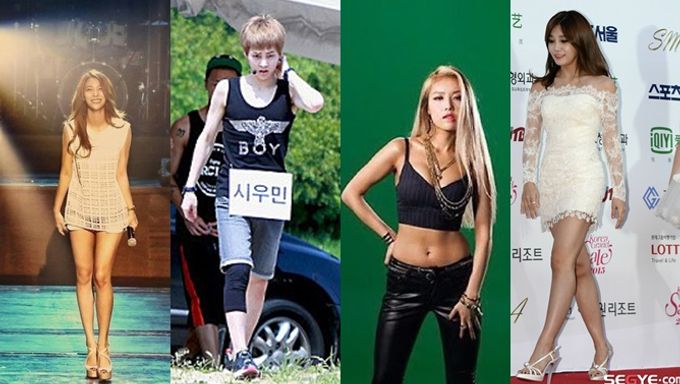 "They did it & so can you!"
Spring is here! And that means another summer of shorts and bikinis is right around the corner.
Many of us are probably contemplating of how to rid the extra luggage accumulated over the winter (or over the years). Kpop idols may seem like they were born with God gifted never-gain-a-pound genes, but idols work hard and sweat blood to get that perfect bod. Here is a list of a few idols who achieved their ideal body transformation to help you get that extra motivation to head to the gym.
MUST READ :
Must Read : See The 6 Best Subtle Girl Group Makeovers
1. XiuMin - EXO
EXO-Ls won't be able to call XiuMin EXO's mandoo anymore! Once known for his adorable chubby cheeks, XiuMin has undergone an astounding transformation from being a teddy you want to squeeze to a man of defined features!
2. Ailee
Korea's Beyonce, Ailee became a hot sensation after losing 10kgs in one month, becoming the role model for many girls wishing to lose weight. But we can all agree, she rocks the stage no matter the difference!
3. ChangMin - 2AM
The 2AM boys are all well known for their Adonis body statures, but they weren't all born like that! ChangMin has become a health fanatic after his decision to lose weight, and honestly, we're loving the view!
4. Song JiEun - Secret
After suffering from continuous vertigo effects of deliberate severe starvation, Secret's JiEun's swore to regular exercise and dietary control to fine tone her body line, giving her a sexier vibe that we all love and admire.
5. T.O.P - BIG BANG
BIG BANG's main visual wasn't always tall dark and drool-worthy handsome! T.O.P once had a past of resembling more of YG's fav teddy bear Krunk.
6. Heo YoungJi
With less than 2 years since her debut, Youngji has upped her goddess image in such a short period of time with the help of Pilates.
7. UIE - After School
UIE's "Honey Thighs" weren't solely genetics, she lives on the code of eating what you want, but making sure to exercise just as much (or more)!
8. EunJi - APink
APink's happy virus and vocal powerhouse had changed up her friendly, cute image for a more sophisticated vibe by shredding off a few extra pounds.
9. YuBin - Wonder Girls
This "Barbie Doll" didn't earn her title by sitting on her butt. YuBin achieved her ideal body by avoiding irregular meals and exercising, such as jump roping.
10. Song HyeKyo
Although she may not be a Kpop Idol, we had to mention the queen of Song Joong Ki's heart in the latest hit drama (DOTS). Song HyeKyo is always at the top of the list for "Most Beautiful Korean Celebrities", but that title was earned through work work and work!
Share your dietary tips and exercise routines with us in the discussion below!