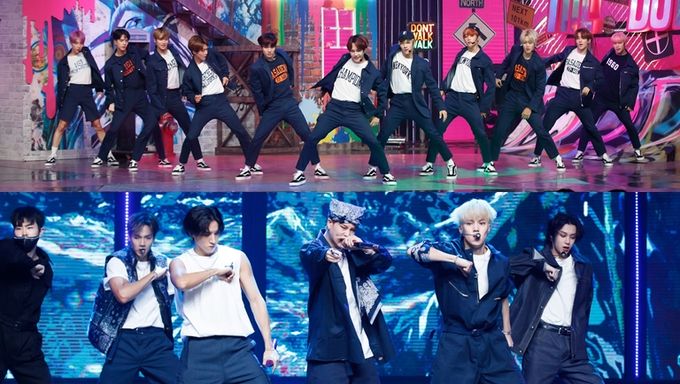 Are you looking for songs to listen to when you get ready in the morning? Stay with us because we are recommending songs that give you energy and confidence!
In the morning, some people like to listen to soft songs while some like to listen to hype songs. If you are a morning person, you are more likely to enjoy bright and powerful songs. This is what this list is composed of.
There are three things you need in the morning. First, you need to fully awake from your night. Second, you need to have a good mood for having a good day. Third, you need to build confidence from the start of the day.
This K-Pop songs playlist recommendation will give these three things. Note that this order is the best for a gradual increase of energy.
Extra tip: if you can play the performances on your TV, computer, or smartphone, it is even better for the energy transmission. However, this might prevent you from getting ready fast.
1. ATEEZ's 'Wave'
Step 1: first vibes in the morning: you are waking up in a paradisiac place
You need a refreshing song to start your day and this song is perfect for a first song as soon as your wake up. Your day is already starting with a bright sun and smiles.
2. THE BOYZ's 'D.D.D' or 'Bloom Bloom'
Step 2: cute and bright song. You are smiling already and your mood goes up.
Just listen to 'D.D.D' and/or 'Bloom Bloom' will give you a smile right away. They are both must-listen songs in the morning bringing its load of cuteness and freshness.
3. SF9's 'Play Hard'
Step 3: energy shot 1
Now that you are in a good mood, it is time to get the energy flowing in your body. 'Play Hard' will bring up the first bunch of needed energy for your day.
4. NCT's 'Work It'
Step 4: energy shot 2
Time to start putting the volume up. Your stiff body is moving at 'Work It' and you follow the moves along with the beat.
5. Wanna One's 'Energetic'
Step 5: energy shot 3
By this time, you are already singing and jumping around while getting ready. We can't miss this iconic song 'Energetic'.
6. Stray Kids' 'Miroh'
Step 6: energy shot 4
With 'Miroh', you will most likely start jumping and running everywhere in your room. If you do morning stretching or sport, this is your timing.
7. SEVENTEEN's 'Hit'
Step 7: too hype to think about anything than the song. There is no time to think about the problem you have to deal with today
If you were still thinking about the issues you had to deal with during the day (even after all these songs), 'Hit' will remove them. You will be too busy singing "Hit sound, hit-hit-hit-hit ... Wow, wow, wow, wow".
8. ITZY's 'Wannabe'
Step 8: first confidence boost
Your body is already full of happy energy, now it is time to boost your confidence and determination. Listening to 'Wannabe' will help you. After all, "No matter, if you love me or hate me".
9. 2NE1's 'I am the Best'
Step 9: time to feel like you are the queen/king
When you need courage and a fearless mood in the morning, listening to 'I am the Best' is a must.
10. MONSTA X's 'Beastmode' or 'Zone'
Step 10: you are feeling invincible
MONSTA X's 'Beastmode' and 'Zone' are both perfect to end your morning playlist. You can tune in 'Beastmode' if you need more confidence or 'Zone' if you need more energy and hype before leaving the house.
You are now fully ready for your day and the outside world. Have a good day!
What about you what do you listen to when getting ready every morning? Let us know in the comments.