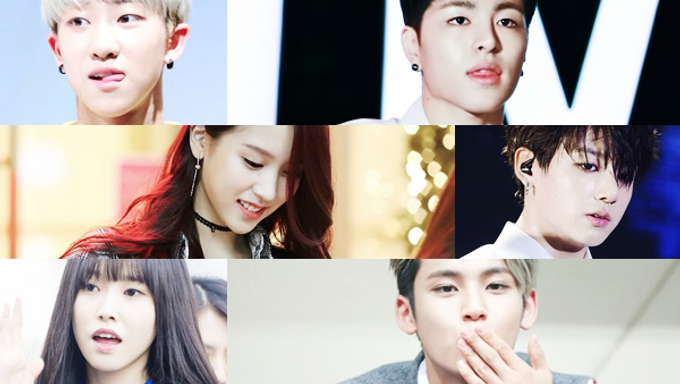 As new year is approaching, some of them will get big change on their ages like becoming an adult from teenager eventually.
Who will be the hero? That's the ones that were born in 1997.
BTS' JungKook 
JungKook is the youngest member of BTS and versatile, sometimes so cute and charismatic once in a while. He has grown up to be a mature man. He seems to having more fans all of ages in the future.
Must Read : BTS Jungkook Then And Now
Seventeen's Dokyum, Mingyu and The 8 
With their pure and fresh images, Seventeen got fans' heart going as soon as they debuted. Among their a lot of members, 13, Seventeen have three new adults, Dokyum, Mingyu, The 8 next year.
Must Read : Who Are The Tallest And Shortest SEVENTEEN?
iKON's Koo Jun-Hoe and Kim Dong-Hyuk 
Who was the 2015 Melon Music Award's super rookie? Yes, that's iKON from YG Entertainment. The two members of the group, Koo Jun Hoe and Kim Dong Hyuk were born in 1997 and Junhoe, has passed school qualification exam by himself in 2013. They seems to postpone an Entrance exam for college this year.
Must Read : iKON is set to 7members : The Final iKON Profile
GFRIEN's Yuju and Eunha 
Yuju, Eunha is the same age born in 1997 . Eunha got pretty and exotic face and starring in MV of Yoo Seung Woo's 'Because she is pretty.' She attracts us on that MV with Yoo Seung Woo, BOYFRIEND Jungmin and MONSTA X Kihyun. Previously one of the 97-liners, Yuju also proved to be a talented singer through MBC's 'Mask King'.
Must Read : GFRIEND Yuju's Pitiful Accident Video Went Viral
TWICE's Jihyo and Mina 
TWICE has got fans worship them as soon as they debuted these days. Jihyo has been training for her whole life as a trainee and finally debuted as a team leader. Take a look at her big eyes and well-defined face. And another 97 liner, Mina is Japanese. She gave up ballet she has been doing for 11 years and decided to show off her amazing performance as a member of TWICE. Her nick name is 'Dark Sexy' and it's OK now as they are going to turn in 20s next year.
Must Read : JYP new girl group is set to 9-member : TWICE Profile