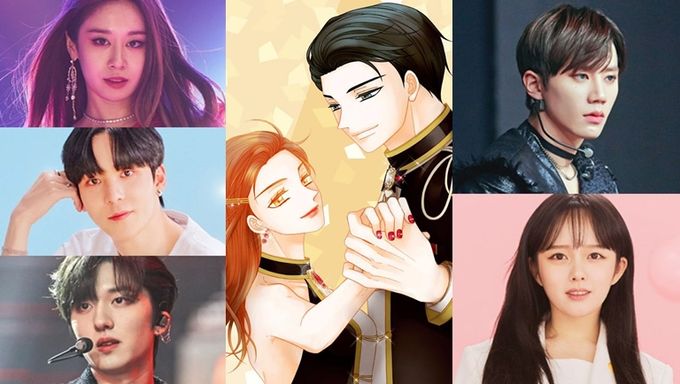 Are you looking forward to the idol romance drama "Imitation"? If not, you might want to consider adding it to your watchlist as it is full of potential.
U-KISS's Jun (Lee JunYoung), Jung JiSo, T-ARA's JiYeon, ATEEZ's YunHo, SF9's Chani, and g.o.d's Danny Ahn are acting with ATEEZ's JongHo, San, and SeongHwa, SF9's HwiYoung, Park YuRi, Ahn JungHoon, MinSeo, ex-PRISTIN's Lim NaYoung, Boys Republic's SuWoong, and Shim EunJin.
"Imitation" is a KBS drama based on the popular webtoon of the same title. It tells the stories of idols in the entertainment industry. If you are looking for all the characters' descriptions, you can check our fully updated cast and summary here.
The story of "Imitation" is centered on solo artist La LiMa and three fictional groups SHAX (Jun, JongHo, HwiYoung, Park YuRi, Ahn JungHoon, and Chani as a former member), Tea Party (Jung MiSo, MinSeo, Lim NaYoung),  and SPARKLING (YunHo, SuWoong, SeongHwa, San).
Here are 10 reasons why you should look forward to the drama and add it to your watchlist. (This is not a ranking).
1. Chemistry of rising actors U-KISS's Jun & Jung JiSo
Jun (Lee JunYoung) and Jung JiSo are the main couple of this drama. Jun has built up his filmography with numerous projects. He won the Best New Actor Award for "Goodbye to Goodbye" in 2018 at the MBC Drama Awards. The next year, he was nominated for the Best New Actor Award for "Good Casting" at the SBS Drama Awards. Jun is talented in acting and this drama will give him the chance to gain more spotlight.
Actress Jung JiSo is also a rising actress. She is known for her acting in the famous movie "Parasite" and also acted in the dramas "W" and "The Cursed".
We can look forward to their acting and chemistry.
2. T-ARA's JiYeon return to acting
JiYeon is one of the lead characters and fans are more than excited to see her back on screen. Her last drama was "I Wanna Hear Your Song" back in 2019.
You will also remember that she was acting in the famous idol drama "Dream High 2" back in 2012 and that is one more reason to look forward to "Imitation".
3. ATEEZ's YunHo acting debut
YunHo is debuting in acting with one lead role and ATINY is more than excited about it. YunHo mentioned in an interview that he practiced for the drama paying extra attention to his pronunciation and facial expressions. He also said that he was 80% similar to his character YuJin.
Many are curious to see YunHo as YuJin.
4. Cast full of acting-dols
The drama is about idols and the cast is filled with idols from different groups or doing solo activities! This casting choice seems perfect because we can look forward to realistic and well-performed stages throughout the drama.
Moreover, most of these idols have previous acting experience including Jun, JiYeon, Chani, HwiYoung, Lim NaYoung, SuWoong, and more.
5. Spotlight on idols' private and public life
There are not so many dramas about idols when a lot of us are interested to learn more about their behind stories. "Imitation" will be an open window to the idols' world with the spotlight on their public life, love stories, and struggles.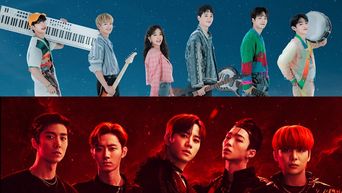 6. Webtoon based
The drama is adapted from a popular webtoon in and out of Korea making us hope that the drama's story will be exciting. The webtoon "Imitation" (in Korean "이미테이션") was written by Park KyungRan. If you are interested, you can read the webtoon here in Korean and here in English.
7. Exciting central love triangle
As you can see on the character chart, there will be a love triangle.
The top star Kwon Ryuk (Jun) (SHAX) started to fall for the happy girl MaHa (Jung JiSo) (Tea Party) after she started to get on his nerves. On the other side, YuJin (YunHo) (SPARKLING) has feelings for her. He is her friend since their trainee days and he is always there for her.
La LiMa (JiYeon) is also close to Kwon Ryuk and does not like MaHa getting in between them (but note that La LiMa is not indicated to be part of a love triangle).
Kwon Ryuk-MaHa-YuJin's love triangle will make viewers' hearts flutter, for those of us who like love triangles.
8. Other interesting love lines
As you can see on the character chart, LeeHyun (HwiYoung) (SHAX) and Ria (Minseo) (Tea Party) have a love line too. LeeHyun fell for her voice. HyunJi (Lim NaYoung) (Tea Party) also has one-sided feelings for YuJin (YunHo) (SPARKLING).
These other love lines also worth looking forward to.
9. Chani's mysterious and key character
Chani is back with a mysterious and key character like he was in "True Beauty".
In "Imitation", he is acting as EunJo who was part of SHAX and who disappeared right before the final stage of SHAX concert. He reappeared 3 years later and finally reveals the key reason for his disappearance on that day.
His character's description can only make us curious. What happened to him?!
10. KBS prepared a lot for "Imitation"
For this drama, KBS had prepared a lot for the viewers! Social media accounts (Instagram and Twitter) were created for the fictive groups of the drama: SHAX, Tea Party, and SPARKLING. These accounts are actively updated with pictures and information (profiles) about the members. KBS also made a fansite master account on Twitter and an ad to celebrate SHAX's 6th debut anniversary at Hongik University station.
This did not stop here as Tea Party performed on Music Bank on April 30 with 'Show Me'.
SHAX will be performing the song 'MALO' on May 7.
SHAX (샥스) - 𝐌𝐀𝐋𝐎
➥Release on
2021.05.07 12PM (KST)#SHAX #샥스 #MALO pic.twitter.com/iJXO4FV5lf

— SHAX 샥스 (@SHAX_twt) May 3, 2021
There is even a special avenue at COEX (Seoul).
SHAX | 𝐌𝐀𝐋𝐎 티저 최.초.공.개‼️
 
📍 삼성역 코엑스 브랜드 에비뉴
🗓 ~2021년 4월 30일 (금)
 #SHAX_COMEBACK_0507#SHAX #샥스 #권력 #재우 #이현 #도진 #혁 pic.twitter.com/OSORVeSJ7K

— SHAX 샥스 (@SHAX_twt) April 24, 2021
"Imitation" premiere this Friday, May 7. It has 12 episodes and only 1 episode will be air each week.
If you have yet to check the teaser of the drama as well as La LiMa, SHAX, Tea Party, and SPARKLING teasers, you can check them below.
Are you also looking forward to this drama?