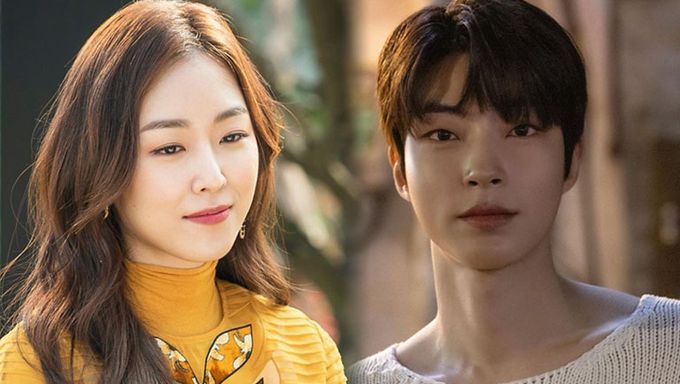 2021 has been an incredible year for K-Dramas so far. With Netflix taking on even more bold projects and other OTT platforms making K-Dramas available globally, the world is catching up on some of the best dramas ever. In a previous article, we gave you 11 romance K-Dramas you can look forward to in the second half of 2021. However, there are many more in store!
1. "Tale of the Royal Secret Agent and Jo Yi"
Summary: It tells the story of the investigative adventures of a lazy Secret Royal Agent (working in secret to find the corruption of officials) and of a passionate widow who who joins forces with him.
Cast: 2PM's Ok TaecYeon and Kim HyeYoon.
Reasons To Watch: The chemistry between the two leads who are amazing actors, is certainly going to be electric. The height difference is also a bonus. Besides, the plot sounds very interesting and attention-grabbing.
2. "Return"
Summary: "Return" is a supernatural drama about magicians, heavenly spirits, and the world in between. It will be a brilliant new approach to the concept of fantasy
Cast: Lee JaeWook, Oh My Girl's Arin, NU'EST's MinHyun, Jung SoMin, Oh NaRa.
Reasons To Watch: This is a work by Hong Sisters, who have been behind extraordinary dramas such as "My Girlfriend Is A Gumiho", "Master's Sun", "You're Beautiful", "Hwayugi" and many more. It will most definitely be yet another masterpiece.
3. "Melancholia"
Summary: "Melancholia" tells a beautiful story of an unconventional mathematics teacher who gets involved in the life of an extraordinary student. Set in a corrupt high school that kills creativity and imagination, "Melancholia" is expected to be revolutionary.
Cast: Lee DoHyun and Im SooJung.
Reasons To Watch: Lee DoHyun and Im SooJung are both known for choosing their projects very carefully. Both the artists are extremely talented, which is raising expectations about this unusual story.
4. "Red Sleeve"
Summary: This is a historical romance drama and tells the love story of King Jeongjo and Seong DeokIm who becomes the royal concubine Seong UiBin, despite her desire for freedom and happiness beyond anything else.
Cast: 2PM's JunHo and Lee SeYoung.
Reasons To Watch: This drama is adapted from a popular novel series that is much loved by readers not just in Korea but also internationally. Considering its popularity, we can already tell that the drama will be just as good. It is also always interesting to see the characters come to life.
5. "The Moment The Heart Shines"
Summary: This is a youth drama that will focus on the younger generation who are essentially growing up in a digital age where everything, even human feelings, revolve around media consumption. It is expected to be an educational drama as well.
Cast: Choi JiSu, Oh JaeYoung, VICTON's SuBin.
Reasons To Watch: The drama has a stellar cast of young artists who will undoubtedly light up the screen with their youthful charm and innocence. Younger audiences will definitely find it easy to identify with. The storyline will also show a heart-fluttering campus romance.
6. "Idol: The Coup"
Summary: This drama tells a very touching and realistic story of idols who have not found success and only need one big win before they can disband. It is expected to be deeply moving and will showcase all the trials and tribulations behind idol life.
Cast: Kwak SiYang, HaNi and Kim MinKyu.
Reasons To Watch: If you're a K-Pop fan, this drama will definitely be the one for you. You'll be able to watch and learn more about all the clockwork behind an idol's career and the aftermath of the desperation for success.
7. "Check Out The Event"
Summary: This short drama of 4 episodes, tells the story of ex-lovers who pretend to be a couple to win a free trip for couples! You can already guess where this is going. Expect to see a whirlwind of emotions and our leading pair come to terms with their true feelings.
Cast: Girl's Day's Bang MinAh and Kwon HwaWoon.
Reasons To Watch: The bite-sized format and touching subject matter will leave you wanting more.
8. "Part-Time Melo"
Summary: This is a web drama that tells the story of completely different people from different streams of education, different values and beliefs who work together part-time at a restaurant. It is the sequel to "Single & Ready to Mingle".
Cast: Lee EunSang, SF9's DaWon, Mun JiHu and Min SuHwa.
Reasons To Watch: The varied charms of the unique characters will definitely make the drama worth watching, especially since the cast is studded with such talented young actors! If you have watched "Single & Ready to Mingle", you're probably going to love this as well.
9. "Only One Person"
Summary: This drama is a healing romance drama about the love story of a terminally ill woman and a man who finds no value in living because of his circumstances. It is set in a hospice ward, which adds to the unconventional nature of the story.
Cast: Ahn EunJin, Kim KyungNam, Red Velvet's Joy, Ko DuShim.
Reasons To Watch: In all likelihood, this drama is not going to be your run-of-the-mill romance drama. Rather, it is expected to be a moving human melodrama that will evoke a range of emotions and facilitate a deeper catharsis. If you're tired of bubblegum romance, this drama is going to be the one for you.
10. "Why Oh SooJae?"
Summary: A man who has been wronged and a woman who is driven by the wrong reasons cross each other's paths and change their lives forever.
Cast: Hwang InYoup, Seo HyunJin, Bae InHyuk.
Reasons To Watch: The cast for the drama is absolutely breathtaking and it will be interesting to see how the dynamics between the characters unfold and how they change each other's ways, hopefully for the better if at all.
Which of these K-Dramas are you looking forward to the most?
※You can vote multiple times without sign in.
Tale of the Royal Secret Agent and Jo Yi
The Moment The Heart Shines