SF9 is often thought about first for looking fabulous in suits. Indeed, the members are just god-like in suits that they have been wearing on stages mainly in their most recent years of promotions.
But did you know that suits might not be their best stage outfits?! SF9 has had a lot of amazing stage outfits since their debut back in 2016.
In this editor's pick, we chose 10 stage outfits we want to see SF9 promoting on stage with again. If you are new to SF9, you might have missed their previous stage outfits, and it is time to have a closer look at them. If you are a FANTASY, it might be the occasion to take a look back at SF9's history.
Note: the overall group's outfits were taken into account and not individual members. The stage outfits' choices refer to one particular stage of that era and not all stage outfits of that era.  
1. 'O Sole Mio'
'O Sole Mio' is one of the most l.e.g.e.n.d.a.r.y eras (if not the most!). The perfect song and performance aside, the stage outfits were just suiting 100% with the members. 
On this "MCountdown" stage (Oct. 19, 2017), members were wearing an all-black fashion with skinny black jeans and chokers along with their gorgeous satin shirts. If you have seen the dance, you will understand why these outfits are making them as awesome as the knights of the sun. 
Check the stage here. 
2. 'Now or Never'
The hand accessory is one of the key fashion items in the 'Now or Never' era. The outfits were eye-catching during their promotion, but we especially liked this all-black stage on August 9, 2018. Everything we need is there! This all-back fashion makes all the members dashing.
Check the stage here. 
3. 'Enough' 
On Feb. 21, 2019, SF9 Mnet comeback stage for 'Enough' was dangerous for FANTASY's hearts. All the members were styled and accessorized to perfection. All the outfits were individually different, and yet they looked harmonious on one stage. 
Note: ZuHo was absent due to a back injury. 
Check the stage here. 
4. 'Tear Drop'
On July 10th of this year, SF9 stunned fans with this silky sky blue and white outfit. See-through, crop tops, revealing back, V neck, shining accessories, etc. Everything was there to be eye-catching and flawless. Many fans and non-fans have been talking about 'Tear Drop' stage outfits. 
Check the stage here. 
5. Prince outfits
On Oct. 27, 2018, SF9 members held their "DREAMER" concert and wore these unforgettable prince outfits. Can't we have a comeback with this? 
6. 'Roar'
Back on Feb. 09, 2017, when they were still rookies, SF9 wore these cool, charismatic, and matching clothes for 'Roar'. Here too, they wore black ripped skinny jeans. If you noticed, they wore it a few times too in the previous stages mentioned.
For a better look at the outfits, please watch their stage. 
7. Korean traditional clothes
We can't help but love these non-stage pictures from 2017 Chuseok with all the members wearing Hanbok.
For stages, we got to see YoungBin wear Hanbok for a cover of VIXX's 'Shangri La', Chani perform in Hanbok at "UNIXERSE" concert and Yoo TaeYang on "KINGDOM: LEGENDARY WAR". What about seeing all the members perform in Hanbok/or traditional clothes?
댄스커버파티🍀#빅스 #도원경 #부채가너무해 #한복#SF9 #YOUNGBIN pic.twitter.com/6MM4NUE5MC

— SF9official (@SF9official) August 29, 2019
8. 'Summer Breeze'
On July 11, 2020, SF9 took the stage with pink and black outfits for 'Summer Breeze'. At first look, this stage outfit might not look extraordinary. But when you pay extra attention, you can tell the beautiful pink eye & glittery makeup of the members and how these outfits make them slim and tall-looking. (Yes, skinny black jeans again!). Makeup is an important part of the stage look. 
For a better look at the outfits, please watch their stage. 
9. 'Believer'
On "KINGDOM: LEGENDARY STAGE", SF9 tore the stage with 'Believer' and its original stage outfits. These stage outfits look fabulous and elegant, making the members sparkle and stand out on stage. We definitely need to see these fancy (and pricy) outfits again. 
Check the stage here.
10. 'Easy Love'
SF9 members looked too adorable in denim school uniform during 'Easy Love' stage back on April 23, 2017. We need to see this again, if not for a comeback, at least in a fan meeting. 
Check the stage here.
Bonus: Beret 
Bonus: Belly chain
Don't forget to share your opinion in the poll and the comments! 
Which SF9's stage outfits do you want to see again?
※You can vote multiple times without sign in.
Korean traditional clothes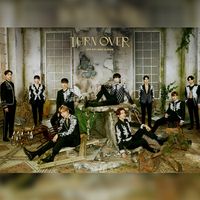 Became a fan of SF9
You can now view more their stories