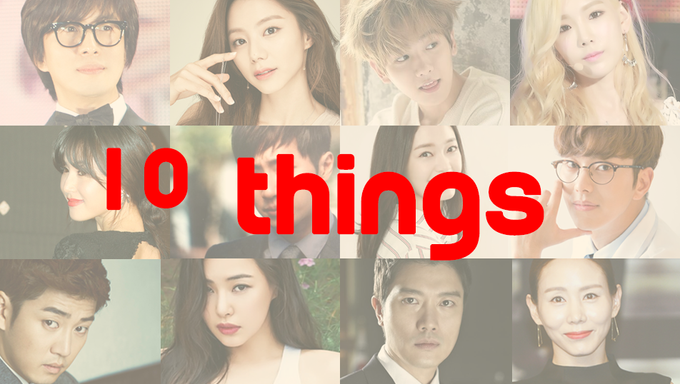 Halloween is just around the corner! Are you all set for the spookiest holiday of the year?
Halloween may have started in the US, but that doesn't mean K-Pop idols don't celebrate the holiday... in fact, they go hard for Halloween! Every year, our favorite idols dress up in the spookiest, funniest, sexiest, and most creative costumes. We've compiled a list of 10 of our favorite K-Pop idol costumes.
Must Read : 151030 Music Bank : 4 Idol Groups Join The Halloween Parade
Which K-Pop idol costume idea will you slay this October 31st?
1. SHINee's Key & Onew - Ronald McDonald and Colonel Sanders
One of the most brilliant K-Pop duo costumes ever! The two members of SHINee went to the SM Town Halloween party as two of the biggest rivals - McDonald's v. KFC!
2. BTS's Suga - Naruto
Suga's Naruto costume is probably world famous now. The resemblence of the idol to the actual anime character is spot on. Well done, Suruto!
3. SNSD's SooYoung - Sadness
One of the best Halloween costumes slayed by a K-Pop idol! SooYoung nailed the character, Sadness from "Inside Out", right down to the expression.
4. TWICE - Harry Potter
These monster rookies made headlines on their first go around for K-Pop halloween! All 9 members of TWICE arrived to Music Bank last year all ready to head to Hogwarts.
5. SNSD's Tiffany & TaeYeon - Little Red Riding Hood and the Big Bad Wolf
The famous besties, TaeYeon and Tiffany, couldn't even be separated on Halloween! The pair went together as Little Red Riding Hood and the Big Bad Wolf, and they were terrifyingly adorable.
6. BTS's V - Joker
We know V's a man of many faces and expressions. It just made sense that he would be Joker for Halloween! Just look at that villianous face. Nailed it!
7. DAY6's WonPil - Mad Scientist
WonPil showed us up in creating the best costume at the last moment. The band member literally created a masterpiece of a costume that was easy to make and fun to follow!
8. EXO's Chen - The Yogurt Lady
Probably the main character of the SM Town Halloween Party. Chen dressed up as the Yogurt lady. For those of you don't know, Yogurt ladies are middle aged women who are dress all in beige and go around selling healthy, dairy drinks. How original of a Halloween costume!
9. SEVENTEEN's The8 - The Little Prince
The8 needs to be known as The Little Prince from now on. During SEVENTEEN's first Halloween celebration since debut, The8 dressed up as the iconic character and the resembelance was astounding!
10. SNSD's YuRi & YoonA - Mickey and Minnie Mouse
SM artists must have a coordinator for duo Halloween costumes or something, because YuRi and YoonA were stunning in their Mickey and Minnie Mouse costumes. So cute, so sexy and so beautiful!