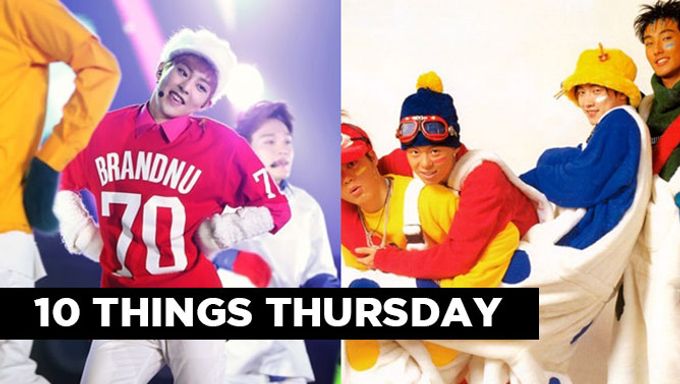 Let's take a trip back to the good ol' days where fluffiness and long bangs were the style of the century.
The K-Pop idols that we love and admire wouldn't have been where they are today if it weren't for the 1st generations of K-Pop idols. Back in the 1990's, K-Pop was just emerging with boy bands and girl groups popping up through a newly found pop culture. Back when ridiculously heavy stage outfits of all different colors and lip syncing was acceptable, the current idols of today were just being born (some not even!). But as our current idols always say, they had been able to grow their dreams of becoming an artist thanks to the influence of the 1st generation idols. And they say, imitation is the best form of flattery, and that's exactly what they did.
Must Read : 10 Things You Should Watch K-POP Cover Dance Videos
We take a look at the 10 idols of today covering the tracks of the 1st generation K-Pop idols!
1. Wonder Girls - "Now" by Fin.K.L (2000)
Fin.K.L had originally released their song "Now" in 2000. The dark, sexy vibe of the song was a game changer for the group's image, as the song emphasized the members' physical maturity. Wonder Girls then took the "Now" baton almost a decade later and released a remake of the exact music video for promotional purposes. Unfortunately, the Wonder Girls didn't actively promote the cover song. 🙁
2. EXO - "Candy" by H.O.T (1996)
Anyone who is even remotely familiar with the 90's K-Pop knows this signature song by H.O.T. As one of the hottest K-Pop groups back then, H.O.T set a new trend for the industry with this fun, upbeat song called "Candy". The song is covered repeatedly over and over again by the current idols, but we think EXO did a terrific job saluting their SM seniors through their cover performance!
3. APRIL - "Everlasting Love" by Fin.K.L (1999)
Another signature song from the 90's, Fin.K.L's "Everlasting/Forever Love" was released in 1999, when the groups was still promoting their innocent and lovely image. The song is iconic for it's main hook with the verse, "promise me". This song is also repeatedly covered by current girl groups, but Fin.K.L's DSP juniors, APRIL did an incredible job covering the song to fit their same innocent and girly image!
4. ASTRO - "Couple" by Sechs Kies (1998)
Even K-Pop fans who have no idea of the 1st generation should have heard this song! The Sechs Kies members regrouped together thanks to the help of "Infinity Challenge" to re-promote the song, "Couple". It features a sweet melody and lyric that had all the Sechs Kies fans dying at their feet back in the good days. ASTRO nailed the song with their fresh, boyish images, while adding in their clean, cut dance skills.
5. SNSD - "Dreams Come True" by S.E.S (1998)
The fairies of the 1st generation idols, S.E.S had released "Dreams Come True" as an inspirational song for their fans. Their high, girly voices were perfectly matched by their SM juniors, SNSD over a decade later. We can't tell which version we like better!
6. SHINee - "We Are the Future" by H.O.T (1997)
H.O.T's "We Are the Future" was famous back in the 90's for its eccentric dance opening. Who else than SM's KalGunMu SHINee boys to cover their song? SM must be doing something right, because both H.O.T and SHINee are sick dancers!
7. GFriend - "To My Boyfriend" by Fin.K.L (1998)
Fin.K.L's arguable 2nd most popular song, "To My Boyfriend" stole the hearts of all K-Pop male fans back in the day for its upbeat and adorable music style. We've honestly never seen Lee HyoRi so cute! So, who better than the latest nation's girlfriends of K-Pop, GFriend to cover the song! UmJi and YeRin's adorable voices were basically made for this song.
8. SR16G - "I'm Your Girl" by S.E.S (1997)
Probably the most iconic girl group song to be released by the 1st generation idols, "I'm Your Girl" took the industry by storm with its release. S.E.S's debut song can easily be heard while walking the streets in Seoul today. Most notably, SR16G (SM Rookies Girl Group) had covered the song on the Mickey Mouse Club. As the juniors of the 1st generation queens, we think the rookie girls did them proud!  
9. GaIn of Brown Eyed Girls - "10 Minutes" by Lee HyoRi (2003)
After the disbandment of Fin.K.L, Lee HyoRi set out on her own with a whole new style and groove. She traded in her frilly skirts for sexy crop tops and tight jeans, and took the title of sexy queen as her own. Her debut solo single, "10 Minutes" became the iconic song for both HyoRi and the start of a sexy generation of K-Pop. Who better to take on HyoRi's reign than Brown Eyed Girls' very own sexy diva GaIn?
10. BIG BANG - "I Love You" by S.E.S (1998)
Another unforgettable song by S.E.S, "I Love You" is the iconic song of a shy, innocent girl professing her love to her significant other. None other than BIG BANG's G-Dragon, T.O.P and TaeYang took on the song and seriously killed it. We've never seen more beautiful and innocent girls than the three BIG BANG hyungs!