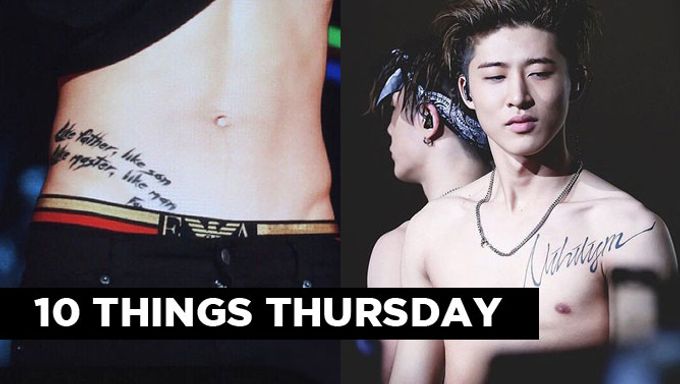 These K-Pop idols look badass af! But who knew that these tattoos held such beautiful meanings?
We already knew that our favorite idols were tatted up from head to toe. Some idols have small discrete tattoos, while some are covered with them. We love em in one way or the other, but what really gets us moving are tattoos with a deep meaning behind them. Tattoos can be a fashion accessory or just a fun way to express yourself, but there are also tattoos that hold a heart warming meaning. And those are the kinds of tattoos that help us get to know our idols better.
Must Read : Normal Female Idols and Unusual Their Tattoos
Check out this week's 10 Things list of 10 K-Pop idols who have tattoos that are as beautiful as their heartfelt meaning.
1. iKON's B.I. - "Like father, like son, like master, like man" & "Nihilism"
iKON's leader, B.I., has multiple tattoos drawn on his body, but there are two that stand out the most. The first tattoo is drawn on his right hip with the words "Like father, like son, like master, like man". Fans assume that it's a tribute to his controversial father, who was caught up in an embezzlement scandal. iKON's debut was actually petitioned against at first, because of the scandal. We imagine his other tattoo on his chest "Nihilism" stands for all the trials and tribulations he had gone in order to debut.
2. 4Minute's HyunA - "My mother is the heart that keeps me alive"
HyunA is a proud owner of multiple tattoos, but our favorite one has to be her dedication to her mother. HyunA has written "My mother is the heart that keeps me alive", showing her love and devotion to her own mother. Fans should know just how much her mother means to her. HyunA couldn't help but shed streams of tears during "Invincible Youth" just with a phone call to her mom.
3. BEAST's JunHyung - "Born again still your son", "Carpe Diem, Quam minimum credula postero" & "If I die tomorrow I would never regret"
Our main rapper of BEAST also shows a heart of gold for his parents. The tattoo on his chest reads "Born again still your son", which is a tribute to his parents. JunHyung has always been the ideal image of filial piety. In order to give thanks to his parents he works hard and strives hard to make each day count. That leads us to his next tattoo written "Carpe Diem, Quam minimum credula postero", which means 'Seize the day, Put very little trust in tomorrow'. Fans would know that this is his motto that he lives by so that "If [he] would die tomorrow [he] would never regret"!
4. SNSD's Tiffany - "toujours belle"
Tiffany has dainty discrete tattoos, but her most memorable one has to be the one on her rib. Tiffany had inscribed "toujours belle", which is french for "forever beautiful". It can stand for Tiffany's everlasting beauty, but fans would know that Tiffany's Korean name is MiYoung. Young stands for 'forever' and Mi stands for 'beauty'. So not only is this petite tattoo a tribute to vanity, but also a tribute to her founding Korean roots.
5. JYJ's JaeJoong - "TVfXQ SOUL", "The pleasure of the mighty are the tears of the poor", "MICKEY JUNSU", "Always keep the faith" & "Butterfly"
Out of all the JYJ members, JaeJoong has the most tattoos and they each hold a dear meaning. We'll focus on just a couple for now! JaeJoong's first tattoo was "TVfXQ SOUL", which he got when he was still a TVXQ member. With his love for his members, it wasn't a surprise when he inscribed "MICKEY" and "JUNSU" after forming JYJ. But during the hectic departure, JaeJoong wanted his Cassiopeia fans to "Always keep the faith" that everything will be all right. With a tribute to his underprivileged life from the past, he has "The pleasure of the mighty are the tears of the poor" on his back to remind him to not lose himself in his accumulated wealth. Lastly, a tribute to his future, JaeJoong has a butterfly on his chest for his first solo track 'Butterfly'.
6. SNSD's TaeYeon - "Serenity" & "I"
Much like her bff Tiffany, TaeYeon also has small discrete tattoos along her body. First, TaeYeon sported a new tattoo on the back of her arm called "Serenity". Fans believe that it stands for all of the chaos and controversy that she had to endure during the past few years with her relationship with BaekHyun and the absence of Jessica from SNSD.
7. WINNER's TaeHyun - "STAY GOLD", "5 Banana Peels" & "W"
TaeHyun has always been known for his unique artistic side. TaeHyun had written "STAY GOLD" on his left wrist, and fans believe that it stands for all the hardship and abuse he had undergone during his trainee days. Now that he was able to have a taste of the golden days with WINNER, fans believe that TaeHyun added the five banana peels to represent the 5 members. The banana is apparently an inspiration from a painting by TaeHyun's favorite artist, Jean Michel Basquiat, who he wrote the name of on his arm.  The bat on his right arm is also supposed to be a tribute to his idol.
8. Jay Park - "Always Come Proper" "19 55 60 87 89" & "JAYWALKERZ"
It would take us days to cover all of the tattoos on the AOMG's boss, so we'll cover the 3 with the most meanings. Jay Park has written "Always Come Proper" above "19 55 60 87 89". These tattoos are a tribute to his family, who mostly live abroad in the States. As his family as always taught him to be righteous and proper, the numbers were a tribute to the birth years of his family members. Lastly, while Jay was going through rough times after his controversial leave from 2PM, Jay's fans were there for him. As a way to express his gratitude and thanks for his fans, he engraved his fandom name on the back of his neck: "Jaywalkerz".
9. Lee HyoRi - "Walk Lightly in the Spring, Mother Earth is Pregnant" & "Turtle & Heart"
Although she's a long time retired idol, we had to include the mother of K-Pop divas, Lee HyoRi. HyoRi inspires the world with her charity work and representation for animal rights. With her love for nature, HyoRi has engraved "Walk lightly in the spring, mother earth is pregnant" on her arm with two flower. To reflect her love for animals, she as a turtle and a heart on her right hip.
10. BLOCK B's Zico - "Mother's Face", "Yellow Ribbon" & "Bees & 131013"
Another artist of the hip hop scene with multiple tattoos, Zico finishes our list with 3 of his most meaningful tattoos. Zico shows his love and devotion to his mother with a portrait of his mom on his left chest. His love and understanding for his mother must follow through to his Yellow Ribbon tattoo. The Yellow Ribbon represents the loss of over 300 students in the SeWolHo accident. With so much young lives lost due to carelessness, Zico drew a ribbon to never forget the misdeeds and to always aim for a better future. Lastly, Zico shows his love and pride for his BBCs with drawings of bumble bees and the date of his first 1st place win on a music show.