10 Things Only Found at SPICA Showcase
The main event of Kpopmap's Inside Showcase this week was none other than SPICA!
SPICA just made a comeback after a long hiatus of 2 years and 7 months. Best known for their outstanding vocals and dazzling performances, SPICA finally made their return after years of fine tuning their skills. For their new album, SPICA's leader BoA took the reigns on composing their new title track, "Secret Time". The song was created as a dedication for the group's transition from playful girls into mature women. 
SPICA first gained spotlight as the girl group produced by sexy queen, Lee HyoRi. However, the responses for the group were less than stellar compared to the groups' talent potential. All fans are hands on deck for this album, hoping that the girls will finally be recognized as much as they deserve.
Must Read : Showcase )) SPICA "SECRET TIME" Press + Stage Photos (+150pics)
The ladies with so much to show and so much to give, Kpopmap visited SPICA's showcase to find 10 secret things only found at the girls' showcase!
SPICA's "Secret Time" Showcase
Brought to you by your friends at Kpopmap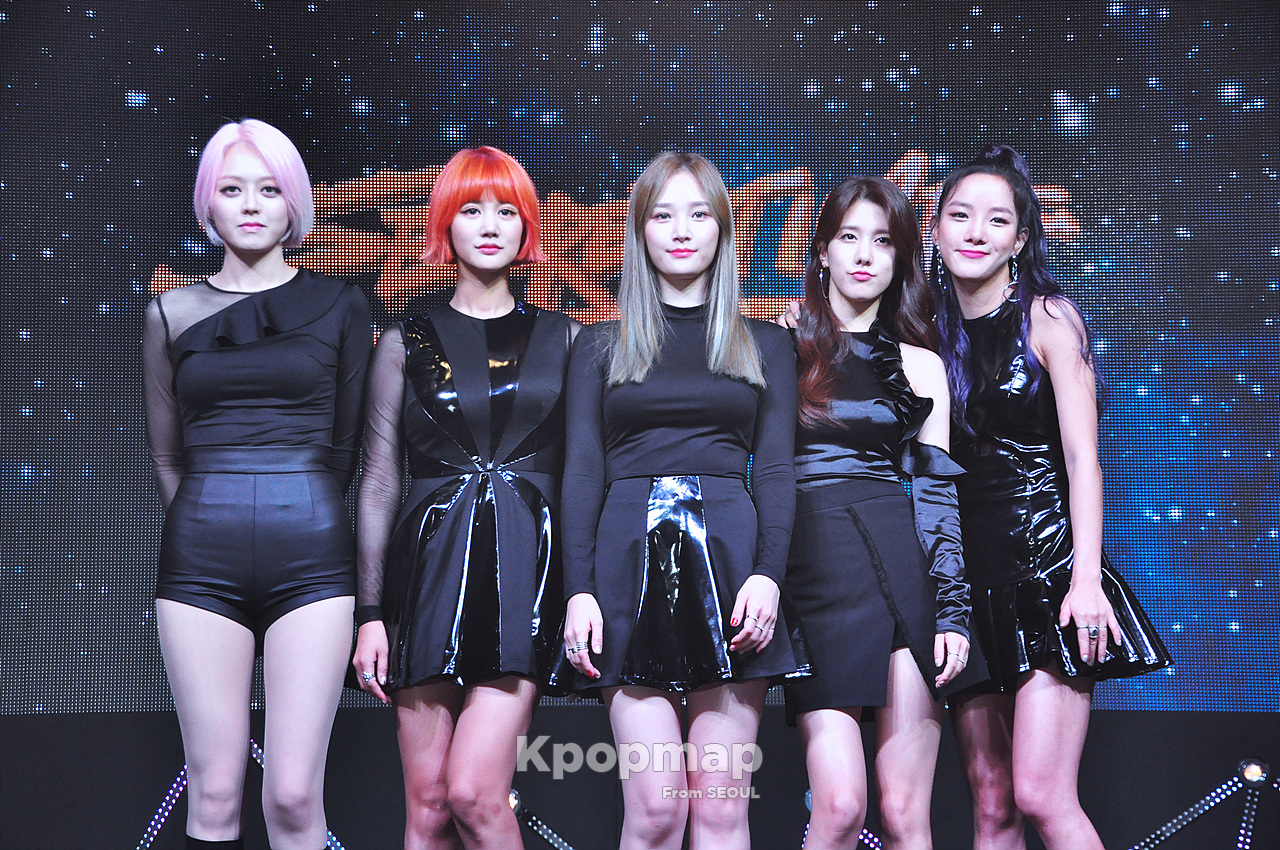 1. SHY TIME
The first impression that the SPICA girls always get is powerful unnies with tough exteriors. However, perhaps it was due to the long hiatus, but the girls were more shy, innocent girls than charismatic women. BoA explained that she felt as if she were debuting again, as JiWon felt as if she were returning back to the stage after going to the army. Through their nervousness, we were able to see just how much was put into this album and how much it meant for them. SPICA were asked to try cute poses and sexy poses during the photo time, but the girls couldn't help but shyly smile as well. But once the girls turned to perform, all shyness were gone as 5 sexy, charismatic ladies took the stage to show just how a girl group of 5 years can own the stage.
2. COLORFUL TIME
One of the most attention grabbing aspects of the showcase were the SPICA girls' fabulous hair! Although the girls were all dressed in dull black, each member showcased their individual personalities through their colorful hairstyles. BoA donned a bright pink color to accentuate her big doe-like eyes and pale skin. JuHyun looked bright and energetic in a short orange bob with spiked up ends. The visual member who's life is a photoshoot, JiWon fancied long waves of maroon to showcase her lovely and girlish charms. NaRae was absolutely serene and beautiful in her ash gray ombre, styled straight down to her chest. Lastly, the maknae on top, BoHyung put all eyes on her as she entered the stage with playful purple hair donned in fun curls.
3. R&B TIME
Each SPICA member has had the skills to be a main vocalist ever since their debut. If you even searched R&B idols, SPICA would be topping the lists. The girls showed us just why they gained their title by performing 2 of their new songs. SPICA began with their title track, "Secret Time", which features a collaboration between funky pop and R&B. Then the girls topped it off with their soulful R&B sub-track, "One Way". Both performances were breathtaking as we realized just how underrated the girls were.
4. SECRET TIME
The new title track, "Secret Time", was introduced as a song arranged by the Swedish composer, Andreas Oberg. Oberg wrote the song after being inspired by the 90s British music styles. The electronic synthesizer sound with funky guitar lives fuse together with the SPICA girls' R&B vocals to create a one of a kind dance track. The track well completes the change of image for the SPICA girls through their new comeback. Through "Secret Time", SPICA transformed into party girls who dream to live by their own rules. With a sexy-chic concept, the girls have definitely shown us a new and unique side to them that we had yet to see before.
5. PERFORMANCE TIME
Another fabulous aspect of the girls' showcase were their stunning performances. The girls had prepared a series of point dances that ultimately proved their girl crush status. Their 'antenna dance' features the girls holding their hands by their ears in a pointing manner. Their 'tambourine shaking dance' highlights their party theme as the girls shake their hands as if they were shaking the musical instruments. To follow through, the girls have a point dance that looks as if they are running out towards an emergency exit – the girls personally named the dance 'emergency exit dance'. Lastly, the girls mesmerized the crowd with their 'air bicycle dance', where the girls lay on their backs and rotate their legs in the air.
6. BOA TIME
BoA gained much props and recognition as the lyricist for their new title track. "Secret Time" contains lyrics that BoA wishes to convey to today's youths in society. She reaches out to the students and employees who continually live the same routine life with no end in sight. With lyrics of a secret inner rebellion, BoA consoles the public as she hopes that they will find at least temporary comfort through the punk-like story of the song. A refreshing break from the confines of society, rise up youths of the world – and party with SPICA!
7. BREAK TIME
Although the girls had a long hiatus, each member were busy spreading their names in each individualistic ways. BoA ventured into synth-rock through the track, 'HOME' with the Prince of Rock, Kim JongSeo. She also amazed the audience with her stellar vocal performance on "King of Masked Singer". BoHyung also appeared on "King of Masked Singer" and is currently competing in the JTBC's vocal competition, "Girl Spirit". JiWon has been busy with musical performances and web dramas, while JuHyun and NaRae were busy recording OSTs and featuring on beauty magazines. After 2 years and 7 months of break and preparation, the girls are back in full force!
8.GUERRILLA TIME
Before the girls dropped their latest album, SPICA were on a short weekend tour of guerrilla performances. During their performances, they sang acapella renditions of various girl group medleys. As a showcase celebration treat, the girls had performed their medley live once more! The girls harmonized beautifully to APink's "I Don't Know", SNSD's "Party", MAMAMOO's "Um Oh Ah Ya", AOA's "Heart Attack", Red Velvet's "Dumb Dumb", TWICE's "Ooh-Ahh", 15&'s "Can't Hide It", Wonder Girls' "I Feel You", IU's "23", GFriend's "Me Gustas Tu", APink's "Mr. Chu" and more!
9. VARIETY TIME
3 years ago, JiWon had briefly appeared on MBC's "Infinity Challenge". What variety shows will the girls challenge next? BoA and NaRae expressed their wish to appear on "Three Meals a Day", where they can be themselves without all the makeup and performance outfits. BoA especially wished to show how talented she could be working the fields and cooking with natural, organic ingredients. JuHyun expressed her wish to travel out into the jungle through "Laws of the Jungle", because it was something that was difficult to experience in a lifetime.
10. 1ST PLACE PROMISE TIME
With their album just entering the charts, SPICA wishes their fans to feel that the album is worth the wait. They also wish to hear that "SPICA finally found their own signature style", as well as "Even as a fast track, SPICA's vocals are different." As for their 1st place promise, the SPICA girls promised to go camping with their fans, where they can have a barbeque and really spend some "Secret Time" together.