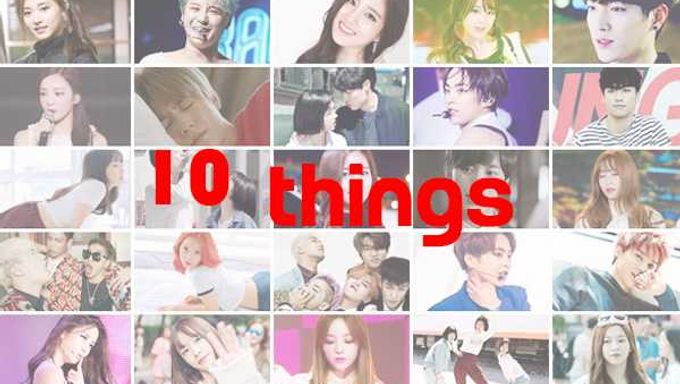 The month opening the year 2016, January has brought many issues of K-idols.
Especially, January includes more numbers of issues, and this is because it is the beginning month of the year. Among the many news, the ones about idols is the biggest interest of fans. There are many good and, also, bad news in this month; dating news, unfortunate injury news, remarkable accomplishments, and etc. Because of its diversity, the month cannot be defined in one word as good or bad. This complexity of the mood may be because of the aftereffect of the last year, 2015, the busy year of Kpop. Therefore, we can see more number of issues comparing to the early of the last year.
Must Read : [ISAC] Dark Shadow Of 2016 ISAC
Kpopmap has compiled total 10 issues of idols of January. From dating news to fraud case, among the various kinds of news, it is time to check which idol was happy but which was not. Which mood of news your bias is in?
10 things get started!!
1. Xiumin – EXO
Injury at ISAC 2016. It was freaking news for EXO-Ls when they heard Xiumin got hurt while he was participating in the futsal game shooting ISAC 2016. The sports star, mized martial arts champion, Kim Dong Hyun tackled Xiumin; He got injured right away. Xiumin was taken to the hospital and his condition is ok now.
2. BTS
Brilliant achievement in Billboard. BTS has shown remarkable works at Billboard charts. The boy band reached at the first rank for 4 times total; also their first rank has been continued for three weeks straight. As a representative K-pop idol, fans are excited to wait for their next movement.
Must Read : BTS 1st Of Billboard World Album Chart 3 Weeks Straight
3. Tzuyu – TWICE
Taiwanese national flag political scandal. Tzuyu has been the hottest issue among any other kpop news, recently. Her flag scandal, she swung her national flag, Taiwanese, in the middle of the TV show and this was misunderstood as she expressed her own political view, so there have been massive scale of boycott risen in China. Hopefully, her controversy is calmed down soon.
Must Read : What Is Really Wrong With Tzuyu?
4. Hyeri – Girls Day
Top star from Reply 1988. She is not titled as 'rising star' anymore. Her outstanding personal achievements have put her onto the top star now. Her recent HIT drama was ended in January, and her next step is spotlighted.
Must Read : Reply 1994!! 2015 HOT Idols Born In 94 Compilation
5. Jisoo – TAHITI
Proposed a sexual sponsorship. It was shocking that Jisoo, TAHITI, posted a screen capture of text messages. In the messages, numbers of proposals from sponsorship broker to introduce her one of his clients, big fan of Jisoo. The smart girl sued the broker.
Must Read : Tahiti Jisoo Was Proposed Sexual Sponsorship
6. Hongbin – VIXX
As a male lead role. Hongbin has been famous for his stunning appearance, but now he becomes a real actor. He appears at KBS2 drama, Moorim School, starting from last week, now as a male lead role. Don't miss every episodes of the drama if you are his fan.
Must Read : Line Up Of Promising Actingdols In 2016
7. Stellar
Comback with sexy plus pure. Stellar used to be blamed for its excessive sexy concept in the past albums, but the agency changed its direction of promoting the girl group, and it seems successful. From Stellar's comeback, 'Sting', on the 18th Jan, the members have appealed sexy and innocent images.
Must Read : Show You My Sexy Abs: Stellar Showcase
8. KARA
Can't see them as a team anymore. Another sad story this month is KARA's disband. There have been many assumptions about KARA members' positions whether they re-contract or not. However, in January, their agency announced the team's official disband. Good bye, KARA.
9. Seungri - Big Bang
A victim of a fraud case. Big Bang fans got panic when the news Seungri sued Shin Eun Sung, his fellow musician, for a fraud case. The amount of money that he was defrauded was 0.2 million dollars. He invested her business, real estate, and got defrauded.
Must Read : BIGBANG Seungri Defrauded Of $0.2M By Female Singer
10. Hani - EXID
XIA's lover. The most breaking news of the new year's day was the dating news of Hani and XIA Junsu. When their dating was caught by a press and released, the cool couple admitted they were in a relationship, and revealed it was about a half year. They look good with each other. Congratulations!
Must Read : Hani Falls In Love With XIA : New Year Couple 2016