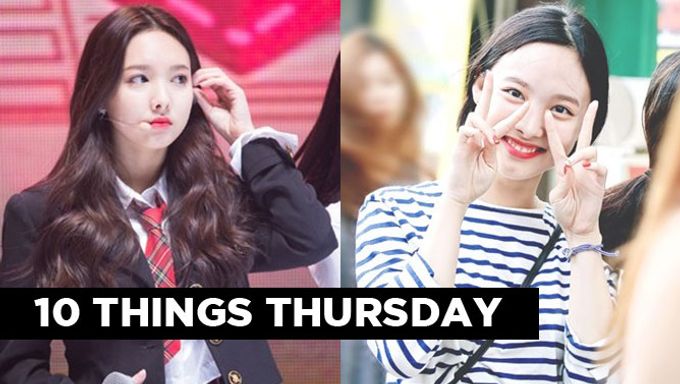 What's your resting face like?
Ever been told that you look pissed when you're just spacing out without a thought in the world? It can't be helped when our resting faces just happen to resemble someone who is angry with the world. We're not pissed, we swear! It's just our resting face. Just as anyone else, some of our happy-go-lucky K-Pop idols, who are always smiling, have resting faces that just scream, "Get away from me." It doesn't mean they're unsatisfied with whatever's going on (well, maybe some are), it's just how their resting faces look. However! When those idols give us a smile or laugh, the whole atmosphere changes in a second. Although they may have an unapproachable rest-face, when they smile, they light up with ultimate joy.
Must Read : Male K-Pop Idols with Adorable 'Cave Mouth Smiles'
We've collected a couple of our favorite idols with totally different resting faces v. laughing faces!
1. NaHyun - TWICE
Who knew that TWICE's happy virus could have such a stoney resting face? But Once only know her for her quirky, adorable gestures and fan service!
2. MoonByul - MAMAMOO
MoonByul looks chic and calm usually, but once she spreads that smile across her face, we all can't help but smile along with her!
3. V - BTS
ARMY knows V as the strangest member of the group. Probably because of his sudden changes in expression from stoic to adorable!
4. HongBin - VIXX
Our man HongBin can be mistaken for two people if you just look at the difference between his resting face and smiling face. His resting face looks like an Ice Prince, but once he shows us those pearly whites, he's the prince charming we all dream about!
5. HyunA - Nine Muses
When you go to a Nine Muses fan signing, don't be alarmed when you first see HyunA's resting face. She may look nonchalant, but once you actually approach her, she's known to be the friendliest and welcoming member of Nine Muses!
6. ChoA - AOA
A lady of two faces. ChoA can freeze fire with that glare, but melt ice with that charming smile!
7. ChangSub - BtoB
Is that ChangSub? We're so used to ChangSub's quirky laugh that just beams with happiness that we never really noticed his stone cold resting face!
8. DaeHyun - BAP
Let's be honest. DaeHyun rocks a callous resting face as much as his happy face. He just looks so darn handsome all the time!
9. D.O. - EXO
We've seen a variety of cold faces from D.O, especially from his acting specs; but when he's on stage laughing with his EXO brothers, he just becomes the cutest, shortest member!
10. SeulGi - Red Velvet
Another well-known girl group happy virus, SeulGi, surprises us all that she has such a cold resting face. We probably never noticed, because she's usually always smiling and waving her to love to the fans!
Which face do you prefer? I think they look good no matter what face they have on!
Until next week, xoxo!