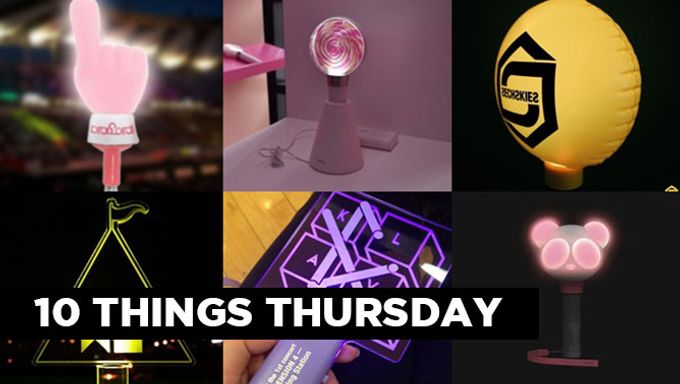 Which K-Pop idol group's lightstick will you waving during the upcoming award ceremonies?
Major end-of-the-year award ceremonies are just around the corner and K-Pop fans are all heading towards their main bias' fandom to prepare. If you're going to go cheering for you idols, a fandom cheer bong (aka lightstick) is a must! With all these sick, cute, and beautiful designs, you may just see me waving about 10 different K-Pop lightsticks in the air!
Must Read : 10 Things Variety Of Cheer Sticks For K-Pop Idols
Check out these 10 latest K-Pop fandom lightstick designs. Which one will you be waving?
1. TWICE
With just a year under their belt, TWICE received their official lightstick design! JYP Entertainment created the cutest 'Candy Bong' for ONCE to cheer with at TWICE's performances. The adorable pink candy design perfectly fits the cuties of TWICE!
2. GOT7
JYP has been stepping up their lightstick game, because GOT7 also received their official light stick design just a few months ago. The 'Agase Bong' has a clear bird resting on top with a gem inside engraved with GOT7's logo. The lightstick's design was inspired by IGOT7, which can sound like "baby bird" in Korean.
3. AKMU
The talented sibling duo of YG has the perfect lightstick for fans to represent the group! AKMU still doesn't have a set fandom name, but their lightstick was inspired by their "AKMU Camp" concerts. With the next-door-neighbor like musicians, it just makes sense that we take a camping trip carrying these cute tent-bongs!
4. WINNER
A classy idol group deserves a classy fandom, and that classy fandom deserves a classy lightstick! Inner Circles can wave their oppas cheer bongs proudly, because the clean, chic design of the group's logo shining in beautiful violet is exactly what WINNER fans need!
5. UP10TION
HONEY10s rejoice, because just within a year since their debut, UP10TION revealed their lightstick. The lightstick is designed into a fan with the group's logo marked right in the center. Although it's not the group's official cheer bong, we think its intricate design is the perfect placeholder to wave around for the boy's upcoming comeback with "White Night"!
6. I.O.I
I.O.I had a very fulfilling year of project promotions, and with all of their performances, fans demanded YMC make a cheerstick for the group. After hearing no responses from the label, fans took it upon themselves to create a lightstick. One of the most popular designs was the 'Pick Me Bong', which featured a cute pink finger pointing to the sky. However, I.O.I's official lightstick turned out to be a much simple design with yellow-greenish color.
7. SEVENTEEN
As one of the hottest K-Pop idols of the year, SEVENTEEN deserved the perfect lightstick. After receiving mixed responses from their multi-colored bong, CARATs began carrying these diamond shaped lightsticks with the group's logo inside.
8. f(x)
f(x) has yet to have a final version of their official lightstick, but it makes sense since the girls and their fans had to wait 7 years for even a fandom name. After being newly labeled as the MeU, f(x) fans were also given this pretty lightstick during the group's 1st concert. The design was inspired by the group's latest album, "4 Walls".
9. APink
After 5 years of using temporary lightsticks, APink has finally received their official lightstick. The 'Pink Panda Bong' was designed specifically for the group's fandom, Pink Panda. The fans absolutely loved the design as they raved that it was worth the 5 year wait to see the cutest pink panda glowing brightly in the K-Pop sea of lights.
10. Seches Kies
Seches Kies were blessed with such a devoted fandom that they decided to give back with a blessed design of their lightstick. The Seches Kies era was famous for different colored balloons to represent their fandoms, instead of lightsticks. The designer took the best of two worlds and created a balloon shaped yellow lightstick for the returning veterans - and it looks fabulous!