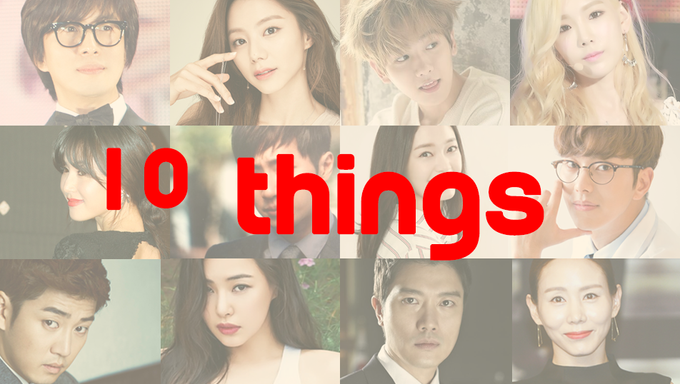 You better not watch out, you better not cry, you better not pout, I'm telling you why: K-Pop idols are coming to town!
It's that time of the year, where we wrap gifts, prepare holiday cookies and sit around the fire celebrating another season of giving. K-Pop idols are also getting right into the Christmas season to spread holiday cheers! Our 10 Things for this week covers the 10 K-Pop idols who are totally ready with the Christmas and holiday spirit.
Must Read : Video )) Jellybox Jelly Christmas 2016 "Falling" Promotion Video
Merry Christmas, Happy Hanukkah & Happy Happy Holidays, K-Pop fans!
1. TWICE
The 9 girls of TWICE dressed up in the cutest Santa outfits to celebrate the release of their special Christmas edition album of "TWICEcoaster: Lane 1"!
2. DIA
DIA also dressed up in Christmas red for their winter concert posters. The girls can be seen holding presents, which were actually representing the special gift that they had prepared for their fans!
3. Berry Good
Beautiful rookie girl group, Berry Good performed their new song 'Don't Believe' on "Show Champion" today. The girls made the stage even more special by dressing up in cute holiday Santa outfits!
4. SF9
We can't leave out the FNC family when we celebrate the holiday season! FNC's youngest group, SF9 just released their surprise winter song for their fans. In the video, you can see the 9 boys all dressed up for their Christmas party!
5. WJSN's Cheng Xiao
Cheng Xiao's had a busy year with her first class ticket to fame. Among her multiple schedules, our idol took to her guest appearance on "My Little Television" to dress up as a Santa goddess!
6. Oh My Girl
Oh My Girl just celebrated their 2nd Christmas since their debut, and the girls made this year even more special by dressing up as Christmas fairies for their episode of "Idol 360 World"!
7. "Infinity Challenge"
The whole cast of MBC's famous show, "Infinity Challenge" dressed up as Santas for a special project! Through a series of quiz games, the cast chose Yoo JaeSeok as the special Santa and the rest became reindeers.
8. 2NE1's Dara
Dara's been getting ready for Christmas since the beginning of the month! Just visit her Instagram and you'll see pictures after pictures of Santa Dara giving out gifts in various countries.
9. SEVENTEEN
A Christmas dream come true! What would we give to see the SEVENTEEN Santas climbing down our chimney with the adorable DK reindeer pulling their sleigh? The boys uploaded themselves in Santa suits as a teaser for an upcoming holiday gift!
10. Kang SoRa
Although she's not a K-Pop idol, she's become the role model for many fans as she stole the heart of the one and only HyunBin! The A-Lister actor's beautifully talented girlfriend has been celebrating the holiday season - not with her boyfriend (yet) - but with her fans through her various CF ads.