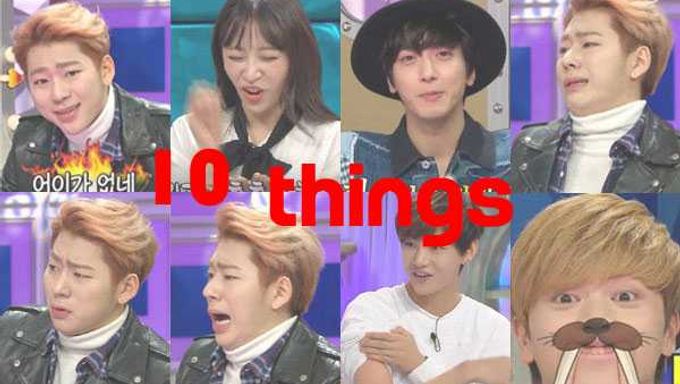 Have you ever watched the hidden specialty of your bias?
Since Moon Heejun, of H.O.T, the first generation of K-idol, showed off his specialty as imitating the 90's sexy star, Cha In Pyo, tremendous amount of specialties of idol stars have come out in the K-pop world. Besides, one's specialty is one of important ways for promotions, so most idols have developed at least one specialty for their own teams and themselves. From the most common skill, imitation other celebrities' voices, to mimicking a certain object, Kpopmap has compiled stars' specialties, so enjoy while looking through those.
Must Read : 10 Things Hot Issued In January 2016
Let's start with the legendary lord of imitation, comedian Kim youngchul's Superpower, and the 10 stars are following. 10 things get started!
1. ZICO, Ryeowook & Henry
ZICO, Henry and Ryeowook appeared at MBC's 'Radio Star' on Jan 27, yesterday, and those three idol stars showed off their own specialties. First, ZICO mimicked Yoo Ah In, Kim Rae Won, and Oh Dal Soo of movie scenes. Ryeowook imitated the legendary actress, Kim Hye Ja in her movie, 'Mother', and Henry mimicked the Indian owner of Indian food restaurant at Itaewon, Seoul.
2. Heo Young Ji
Heo young ji often shows off her specialty as imitating famous actresses' voices on TV shows. In the video she mimicked Hwang Jung-eum, starred at MBC's HIT dramas, 'She Was Pretty' and 'Kill Me Heal Me'.
3. Sungkyu
Sungkyu, INFINITE, is a sound making genius. He has imitated numbers of senior musicians and animals so far. In this video, he mimicked the sound of a pressure rice cooker. His nasal air flow makes the wound more similar.
4. Rap Mon. & V
Rap Monster and V, of BTS, appeared at KBS2's 'Hello Counselor'. MCs asked them to show any specialty, and Rap Monster showed off impromptu raps describing the TV show. V showed his dots locating on arms, and made his arm looked like a face of elephant with the dots, as eyes.
Click the video link to see their special things > https://youtu.be/sYtUDQ6mzX0
5. Jung Yong Hwa
Jung Yong Hwa, of CNblue, has been famous for his perfect imitation of various celebrities. From Hwan Hee to the senior actor, Park Young gyu, he can mimic about 13 people from no limited fields. Jung Yong Hwa is considered the best imitator in the K-pop world.
6. Taeyeon
Taeyeon, Girls' Generation, is famous for her imitating Sharapova. While Sharapova was playing a game, she gave a shout to concentrate on the game more, and taeyeon perfectly mimicked Sharapova's sound of a shout. One of Taeyeon's nickname is Taeyeonpova because of that.
7. Tzuyu & Nayeon
Lovely girls of TWICE can mimic the puppy sound. Tzuyu and Nayeon mimicked the sound that usually puppies make at their fan meeting in Dae-Gu. Fans were excited to hear the two girls revive of puppy fight. So cute puppies.
8. Seulgi & Amber
Seulgi, of Red Velvet, and Amber, of f(x), imitated their senior idol, Jong Hyun, of SHINee. The two girls pointed his features during his singing exactly, so the other guests and hosts were surprised. Kang In, even, worried if the perfect imitation can make Jong hyun upset.
9. Hani
Hani, of EXID, is well-known for her easy-going personality, and is not afraid of showing her nasty looks on TV shows for fan's joy. One of the hardcore character to imitate, Ki Bong, is avoided by many celebs to imitate. The mimicking video can be stream out online communities and result too excessive image of them. Hani, but, is a brave girl. Video showing Chowon and Kibong of Hani.
10. Yook Sung Jae
Yook Sung Jae, BTOB, has shown his brilliant mimicking senior singer, Kim Dong Ryul. In this video, he started with voice imitations of famous musicians and ended his specialy with mimicking the sound of vibrating phone. In the end of the video, Eunkwang mimicked a baboon. This is, perhaps, the highlight of the video.
Must Read : 10 Things Nationality Shouldn't Matter To Non-Korean Kpop Idols