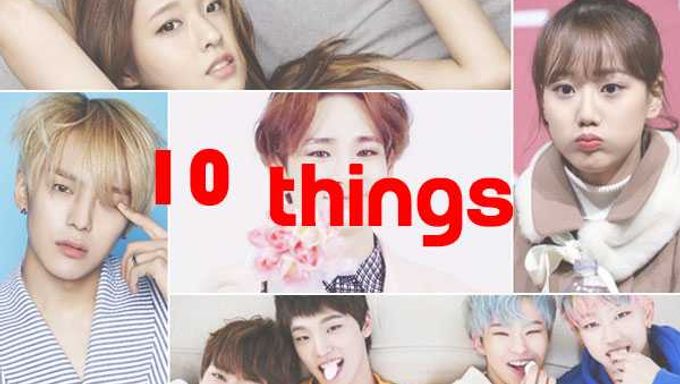 There are only few days left before Valentine Day.
What is your plan for the upcoming Valentine day 2016? As you have been excited for the day, K-pop stars have also prepared something exciting for this year's valentine day. From thrilling performances to breathtaking pictorials, K-pop stars will amuse you on the day. If you wonder what your bias will do on the day, just check his or her plan with us. Kpopmap has compiled 10 stars' plans for the valentine day.
Must Read : 10 Things Idols On Lunar New Year Special Shows
Let's look through the plans of K-pop stars.
10 things get started!
1. Monsta X
Boyfriend look pictorial. Monsta X worked on boyfriend look pictorial with the February's 'Singles', fashion magazine. In the Photos, the members show their endless warm-hearted charm.
2. SeolHyun - AOA
Seolhyun's sweet pictorials with Gmarket was released for celebrating the Valentine Day in the early of this month. Seolhyun showed off her candy sweet charm in the photos, so male fans cannot take their eyes off her.
3. APRIL
One of the 2015's pretty rookie girl groups, APRIL, will hold their valentine concert at Everland, amusement park located in Yong-In city. The romantic concepted concert will bring full of joy to the couples there.
4. I.CAL LIST
For this Valentine Day, K-pop star vocalists prepared the special concert with KBS. HwanHee, of Fly To The Sky, G.O, of MBLAQ, ChunJi, of TEENTOP, and HyunSung, of BOYFRIEND, will show thrilling performances with their mellow voices.
5. SEVENTEEN
In February YOONJONGSHIN, the monthly album of Yoon JongShin, brought special guest, SEVENTEEN, to fill this month with sweet atmosphere. For Valentine Day, Yoon JongShin collaborated with hot idol group, SEVENTEEN, on their Feb special album, Chocolate.
6. ZICO - BLOCK B
Sweet Boy. ZICO transformed to sweet little boy eating cake in his recent pictorial for the following Valentine day. According to the staffs of the photo shoot, ZICO was professional; he well matched with freckle make-up and made perfect poses like top models.
7. Show Me The Love Concert
It is not for money this time. Heros of the hit hiphop survival program, 'Show Me The Money', prepared special concert for their fans. The concept is Hip Hop + Romance. San-E, Verbal Jint, and KittiB will show perfect hip hop romantic performances on the Valentine Day.
8. Key - SHINee
Key with JILLSTUART ACCESSORY. JILLSTUART published their 2016 model Key's romantic valentine video. In the video, the featured romantic mood of the brand and Key's freewheeling style was mixed. There are also SNS events for fans, so get hurry to participate it!
9. Park SoDam
Sweet Ice-cream Girl. Actress Park SoDam had a photo shoot with Haagen-Dazs for the Valentine Day. The concept was a sweet girl preparing to go out for romantic date on Valentine Day. She looks so adorable with blueberry colored house.
1. Monsta X: Watch This!!
2. SeolHyun: Watch This!!
3. APRIL: Watch This!!
4. I.CAL LIST: Watch This!!
5. SEVENTEEN: Watch This!!
6. ZICO: Watch This!!
7. Show Me The Love Concert: Watch This!!
8. Key: Watch This!!
9. Park SoDam: Watch This!!
10. Park BoGum: Watch This!!