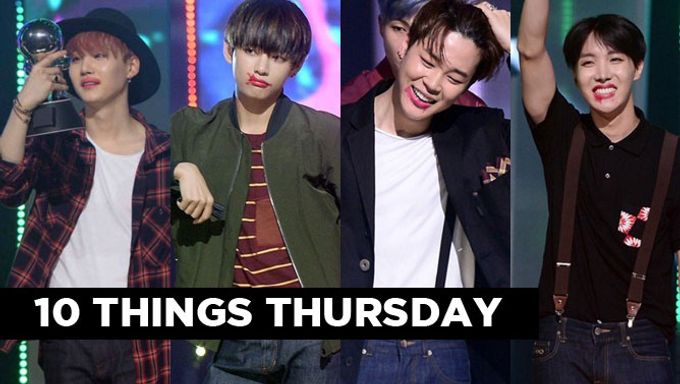 These idols seriously know how to celebrate their 1st place wins!
With every comeback, K-Pop idols make a 1st place promise to the public and their fans. If they get 1st place on the charts or on a music chart, they promise to do something special as a celebration for their success! Usually, these promises are simple enough. Idol groups tend to promise to hold guerrilla concerts, perform their hit song at a particular place or hold a special fan meeting. As more and more idols reach 1st place, and more and more become creative, we've seen some 1st place promises that are seriously... weird, to put it plainly.
Must Read : 10 Things: K-Pop Idols' Weird Habits
These 1st place promises may be odd and unique, but they sure are amusing for us fans! Check out our 10 Things list of the week featuring the 10 weirdest 1st place promises made by K-Pop idols!
1. iKON - Crying Selfies
When iKON was gunning for 1st place, they promised their fans that they will individually upload a selfie of themselves crying. Well we all know that the monster rookies of YG certainly did more than place 1st! The boys kept their promise and uploaded a series of selfies of them crying (with happiness of course!).
2. VIXX - Greek God Cosplay
When VIXX came back with their action packed album "Zelos", they promised their fans to peform while dressed up as the Greek Gods. The idea came from their album title "Zelos", which personifies dedication, emulation, eager rivalry, envy, jealousy, and zeal in Greek mythology. As we well know, the boys placed 1st place and held themselves to their word!
3. Lizzy (Orange Caramel) - Eating Sushi on Stage
We all knew Lizzy was a little crazy. She's the iconic quirky character of the early generation K-Pop idols. So, it came to no surprise when Lizzy promised that she would eat sushi on the stage if she won 1st place... Very odd, but a unique idea for sure.
4. Infinite H - Dress as a Girl & Shave Legs
When Inspirits first saw this video, their hearts were crushed beyond repair. HoYa first began the video by admitting that he had a girlfriend. However, much to the relief of Inspirits, that girlfriend turned out to be DongWoo! As their 1st place promise, Infinite H had promised to dress up as a girl and shave their legs. DongWoo took the fall for the duo as you can see him dressed so beautifully in pink, while HoYa shaved his legs.
5. CLC - Shave Head
Talk about contradictory! When CLC had returned recently with their latest mini-album "Nu.Clear", they promised their fans that they would all shave their head if they got 1st place. That left the fans in a confusing place. We want the girls to get 1st place, but we certainly don't want the girls to shave their hair!
6. Teen Top - Piggy Back Performance
As a promise to their fans, the Teen Top boys promised to perform their encore song if they got 1st place. The small twist in the promise was that the members will pair off and perform the song while on piggy backs! Of course, when the boys did win 1st place, we were gifted with such amusing bonding between the boys!
7. AOA - Bare Feet Good Luck
An amazing moment gone wrong... The AOA girls had promised the fans that they would perform their encore stage bare feet if they won 1st place. And they won 1st place... for a few hours, at least! Either way, we still loved your quirky 1st place promise, girls! 
8. EXO - Dancing Xiu-Baby
The one 1st place promise that we're all dying to see! EXO just recently came back with their 3rd album "EX'ACT". During a press conference, XiuMin had promised the public that he will release a super secret home video of himself if they got 1st place. The video is said to feature baby XiuMin at 5 years old dancing! SuHo upped the scale and promised to release a photo of himself when he was just born if they win 1st place. Let's make it happen, EXO-Ls!
9. 2NE1 - The No HongChul Dance
The chic queens have stepped off the stage. Literally. The usually cool, chic and charismatic ladies of 2NE1 dropped their stage masks for a bit just for their fans. The girls had celebrated their 1st place win by dancing the signature dance of No HongChul. Bom was a bit shy, but I definitely think Dara and Minzy got into it!
10. BTS - The Lipstick Celebration
We never knew lipstick could look so good on a guy! The BTS boys had promised their fans that if they won 1st place for their song, 'I Need You', then they would put on lipstick on stage. The boys did win 1st place, and they did try to put on lipstick. They may need a bit of practice, but they were seriously adorable either way!