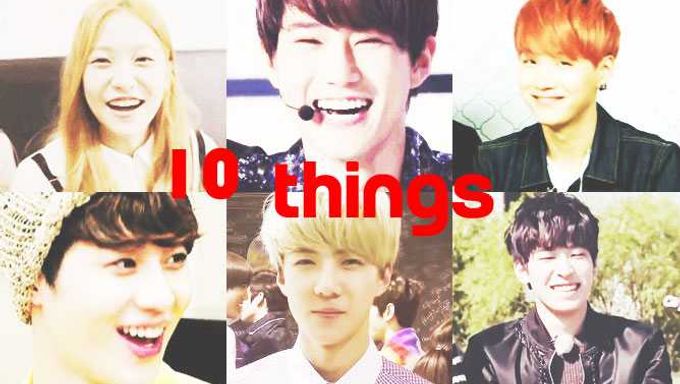 When your bias makes an adorable smile, how do you feel about it?
There is an old western idiom, 'No one spits on a smiling face'. As its positive meaning, smile makes people feel better and familiar. Stars' smile also makes us get closer to them, and this makes fans love their bias more. The adorable smiles of idol stars capturing enormous numbers of eyes have been compiled for you. Enjoy your bias's fatal lovely smiles. 10 stars' smiles have been collected.
Must Read : Can You Guess These 5 K-idols By Their Eye Smile?
Let's look through the 10 hottest idols' smiles. 10 things get started!
1. GongChan – B1A4
Look at GongChan's soft smile. The first smile was made during the fan meeting of B1A4. He is smiling at his fan. In the nest one, he is kissing and smiling. It is like a special gift package for GongChan's fans.
2. TaeMin & Onew – SHINee
Look at TaeMin and Onew's sweet smiles. They look so happy there. TaeMin shows his innocent smile while talking with others, and Onew looks so funny that he must have heard something so fun.
3. SuHo – EXO
SuHo looks so funny. He makes a big smile and then hides his mouth to avoid any ugly shot. So cute. In another one, he makes an attractive smile while talking to camera. In both, he looks so happy.
4. SeHun – EXO
SeHun makes a flower hand pose and gives a cute smile to fans. His candy eye smile is so sweet. Also he is smiling in the other one. He is hiding his smile with a big finger stick, but his happy virus cannot be hidden.
5. NaYeon – TWICE
Oh my god! NaYeon's adorable pure smile captures massive numbers of boy fans. It must have been made during the TWICE stage. Her natural smile can be found in the other one. Her shy smile is so attractive.
6. YeRi – Red Velvet
YeRi does AeGyo in the first one. She is smiling and making cute finger shaking. Her smile emits endless innocent charm. In the other one, she is making more natural and, thus, more adorable smile. She smiles like a little baby girl.
7. SUGA & Jin– BTS
SUGA shows off his full of cute charm with his sweet smile. He is so cute. In addition to the lovely SUGA, BTS's another hero Jin shows his real smile. He looks so funny. He must love playing soccer. Look at the two sweet boys' lovely smiles.
8. WonWoo - SEVENTEEN
WonWoo seems so happy during the shows. In the both of GIFs, he makes a sincere smile, and he looks so funny. Especially, the shape of his mouth is impressive while he is smiling. Look at the beautiful heart shaped smiling mouth. So adorable.
9. HongBin – VIXX
HongBin is handsome even when he is crazily laughing. He looks like he makes a beautiful smile. His stunning face keeps him handsome and makes him more attractive while smiling. He seems to enjoy really.
10. Jackson – GOT7
Look at Jackson's sweet eye smiles. In the both of GIFs, he looks so happy and gives endless charming happy virus. His honest smile makes fans smile, too. His adorable smile is one of the reasons why we love Jackson.
Must Read : 23 K-Pop Idols' Laughs to Make You Feel Happy