May 25th 2018 marks the tenth anniversary of SHINee who had debuted as a contemporary R&B boy group under SM Entertainment back in 2008. During this decade, many wonderful achievements, awards and music records were achieved by SHINee and yet, they had lost a talented angel, JongHyun, unfortunately last year.
Continuing their legend are leader Onew, MinHo, Key and TaeMin which give their fans huge support despite the incident.
Shall we take a look at how far they have come?
SHINee debuted with their title track 'Replay' which had charted on Korean music charts at number ten. They won their first award, "Rookie of the Month" in June 2008 at the Cyworld Digital Music Awards and also the "Hot New Star" award at Mnet 20's Choice Awards in August 2008. They proved to be the leading newcomers in the industry after their win as the "Best New Male Group" at the Mnet Asian Music Awards (MAMA) 2008.
After their successful debut, they continued to gain popularity with hit tracks such as 'Juliette', 'Ring Ding Dong', 'Lucifer', 'Hello', 'Sherlock', 'Dream Girl' and many more throughout the years. Their powerful stage performance, outstanding vocals as well as unique charisma captivated their fans and audience with their ability to pull off any concept given to them.
At the beginning, they were being introduced as a contemporary R&B group and eventually began to explore different genres in their music such as hip hop and dance. Following which, their songs were also influenced by electronic music and rock. With the exploration of different music genres, SHINee was able to charm their fans with the variety of music genres. It was well-received by many.
They rose as one of the top K-Pop idol groups in South Korea after being acknowledged as recipients of the "Disk Bonsang" in Golden Disc Awards in 2010, 2013, 2014, 2016 and 2017. It was not only in their home country where they received such fame. In overseas, they have gained huge fan base and also, they call their fans 'Shawol'.
To show how influential and successful they were overseas, they were the only Korean artist invited to China's Lunar New Year Program "Chun Jie Wan Hui" in 2015. It is a show with the highest viewers' rating in China as compared to other channels which were being broadcast simultaneously.
With the huge amount of fans showing love and concern for them, they have held numerous concerts not just in South Korea, but also overseas to greet and thank their fans. Their concert tour goes by the name "SHINee World".
Their hard work is paid off when Forbes magazine included SHINee in the list of "Korea Power Celebrity" not just once in 2014 but also another time in 2016. This depicts how much influence they have throughout their music career.
Speaking about them as artists, SHINee is well-known not just by fans but also by public that they have unique, strong vocals and also outstanding dancing skills. British style magazine Dazed had described SHINee as a group that has "technicolor visuals" and "choreography as coordinated as ballet" with "wildly adventurous hit songs". Overall, just take it that they are a group which is able to execute a certain X-factor which differentiate them from others.
After the passing of their main vocal, they were able to stand back up on stage with the encouragement and support from their closed ones and continued with their Japan concert tour after several discussions. They also released their Japanese single 'From Now On' which featured JongHyun on March 26th 2018.
In lieu with their 10th anniversary which is coming soon, SHINee will be releasing a 3 part Korean album "The Story Of Light" on May 28th 2018.
Be sure to check out the teaser if you have not. They will also be holding their 10th anniversary fan meeting on May 27th 2018.
It is expected that despite the hardship which they have been through, they will continue to rise and become even stronger and better artists.
We would like to with SHINee boys a happy 10th anniversary in advance!
Read More : 3 Years With MONSTA X – From Super Rookies To Global Icon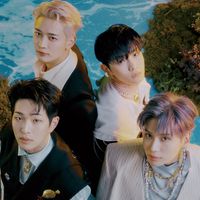 Became a fan of SHINee
You can now view more their stories