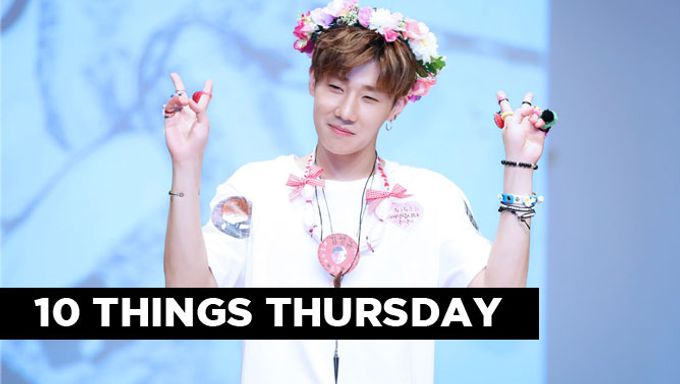 These K-Pop Idols received the strangest, yet most hilarious, nicknames from their adoring fans!
Growing up, our friends and we give each other nicknames. These nicknames become a treasured memory and a part of one's identity. Fans alike give their favorite biases funny nicknames. These nicknames are given out of fond adoration and usually are connected with an inside joke or the idol's personality.
Must Read : 10 Things: K-Pop Idols' Strange Stage Accidents
Our idols usually have more than just one nicknames, ranging from a cute pronunciation of their names to a twist on their funny characteristics. Some nicknames are commonly used, while others are very strange and sometimes hilarious to no shame.
Take a look at our 10 Things list of the week featuring strange, yet funny, nicknames that are oh-so-fitting to our beloved idols!
1. Infinite's SungGyu - Woollim Princess
Infinite's SungGyu has been dubbed the "Woollim Princess" by INSPIRITS. SungGyu had turned Queen Gyu at a concert, where he sat on a throne and had the rest of the Infinite members tend to his needs. Along with the concert, he has an adorable habit of putting on flower crowns and acting like the sassy princess he is. We honestly love this side of the "Woollim Princess"! 😛 
2. EXO's BaekHyun - Daddy
BaekHyun's nickname of "Daddy" began during EXO's first anniversary fan meeting. During the event, BaekHyun had been heard by multiple EXO-L's saying "What should daddy do for you?" The EXO-L's had a great laugh from this and dubbed the cutie as "Daddy"!
3. SHINee's TaeMin - Magic Hand
Get your minds out of the gutter, SHINee Worlds! TaeMin has a terrible habit of breaking and losing anything that's in his hands. So the SHINee fans have dubbed him the "Magic Hands": the idol who makes everything in his hands disappear!
4. WINNER's Mino - Thoughtless Beggar
Now this is a sad, yet hysterical. Inner Circles have given Mino the unfortunate nickname of "Thoughtless Beggar". Now, before all you K-Poppers start raising torches and pointing fingers at the Inner Circles, just know that the nickname was given out of love through an inside joke. Mino is well known to have a habit of saying "Oh I never thought of that." Thus, the Inner Circles and the Idol have an inside joke that Mino lacks much thought, deeming him the Thoughtless Beggar! Let's hope Mino can switch his nickname around to Thoughtless Millionaire!
5. GOT7's BamBam - BamChinJa
Another strange nickname made out of love, I GOT7s have dubbed BamBam as BamChinJa. BamChinJa derives from the word mi-chin-ja, which means crazy person. With a fusion of mi-chin-ja and BamBam, I GOT7s formed BamChinJa for BamBam's quirky and energetic personality!
6. EXO's Kai - SJellJol
The infamous - I mean famous - other half of f(x)'s Krystal is known to have terrible amount of sleep. It appears that Kai loves to sleep so much that he is dubbed SJellJol, which is short for The Sleepiest Kid in SM (SMaeseo Jaeil Jolin Ae)!
7. BLOCK B's B-Bomb - JoDdo
B-Bomb has a nickname that can seem a bit creepy and scary! BBCs have dubbed the Bomb as "JoDdo", which is short for the Quiet, Crazy Person (Joyonghan Ddorai). B-Bomb is known to have a quiet side, but once you get to know him, you know that he has an unique quirky side as well!
8. BLOCK B's JaeHyo - Clementine
JaeHyo has such a pretty name, but also a pretty nickname! This time, the idol's nickname doesn't derives with the help of the leader, Zico. Zico had been quoted to say, "the most entertaining parts of a clementine and JaeHyo is the peeling part (peeling in Korean can also mean to tease someone)." The BBCs jumped on this hilarious interaction and dubbed JaeHyo as the "Clementine".
9. BLOCK B's TaeIl - Your Majesty
The adorable shortie of Block B is dubbed "Your Majesty", because of a quote he had happened to utter. TaeIl had once said that he doesn't like his younger fans using informal Korean to him. So, in order to avoid the possible chance of using informal language to him, BBCs have dubbed him "Your Majesty", so that formal Korean will follow naturally. We hope this explanation appeases the royal one.
10. EXO's D.O. - AlMoKyung
Last but not least, D.O. has a unique nickname of AlMoKyung. The name is an abbreviation for the term, "Just as you think you know KyungSoo, you don't (Aldagado Moleul KyungSoo)." When you first see D.O., you expect a quiet and calm idol; however, once you really get to know him, he will show you all kinds of sides! There are so many different sides to D.O. that it's like a void with no end... See the following gif for yourself!  😛