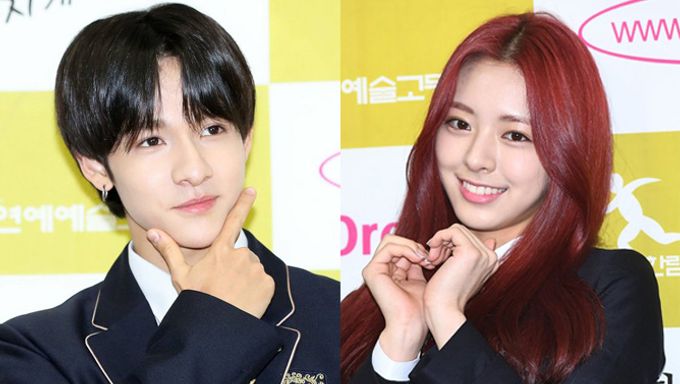 Mar. 4 is the start of the new semester for students in South Korea! Looks like even K-Pop idols who are still schooling were not spared from this day.
Not long ago, Kpopmap wrote an article about the fresh graduates from Hanlim Multi Arts School but this time, we will be talking about some of the K-Pop idols that were spotted at the entrance ceremony.
Some of them are already enrolled in the school whereas some are spending their 1st day in school. Find out who they are!
#1 Kim Samuel 
Did you know that Kim Samuel was home schooled before? Today will be his first day in high school!
#2-4 ITZY's Yuna, RyuJin, ChaeRyeong
Born in 2003, ITZY's Yuna will be attending high school for the first time today. Together with her fellow members, ChaeRyeong and RyuJin, they look as if they are the 'unnies' that will protect their youngest member in the group.
#5 Heo YunJin
You would remember Heo YunJin from Mnet "Produce 48"! Looks like some fans were also surprised to see her attending Hanlim Multi Arts School!
#6 Yoo SeonHo
Yoo SeonHo enrolled into the school back in 2018 and it was said he would be the MC for the entrance ceremony today!
#7-9 1THE9's SungWon, JinSung, DoYum
Fans were delighted to see the boys of 1THE9 attending this prestigious arts high school too! Many are also looking forward to their official debut date.
#10 VERIVERY s KangMin
We did not forget about the maknae of VERIVERY! As usual, his adorable smile is irresistible!
#11 New Kidd's Hwi
Say 'Hi' to Hwi of New Kidd! Many did not know that he actually attends this school! Hopefully fans could see more interactions of him with other idols in the near future.
Read More : 17 K-Pop Idols That Are Fresh Graduates Of Hanlim Multi Art School