Kpopmap joined UP10TION in celebrating their 5th mini-album "BURST" at their comeback showcase!
UP10TION just made their return as men in fiery, passionate love. The group held their showcase at the IlChi Art Hall in Seoul on November 21, 2016. As the boys fully introduced their new album, we can tell that UP10TION is set on ending their successful year on a burst of fiery flame. The group performed their title track, 'White Night' for the first time at the event. The night soon followed with a series of photo times and interviews.
Must Read : MV )) UP10TION – White Night
We bring you UP10TION's flaming comeback showcase closer to the HONEY10s through the 11 things that can only be found at UP10TION's "BURST" showcase.
UP10TION's "BURST" Showcase
Brought to you by your friends at Kpopmap.
1. BURSTING CHARMS
Wei, GyuJin, Bitto, GoGyeol, Kuhn, SunYool, Xiao, JinHoo, WooShin, and HwanHee opened up the night with a series of photo time to showcase their new concepts. As expected of our creative idols the boys posed in the most charismatic and unique positions. One of the group poses featured the boys in a pose that looked a lot like a burst of flame. The angles, the expressions and the members all encompassed the true meaning of charisma… except this one cutie. The leader of the pack, JinHoo was stationed at the center back. With the rest of the members spreading their arms high, it was hard to see JinHoo's face. As a solution, the adorable idol started hopping! With a cute, shy smile on his face, he bounced up and down to complete the pose in the most perfect way possible.
2. BURSTING BLACK
The last time we saw UP10TION, they were dressed in bright summer colors with wide smiles on their faces. This time around, the group's "SUMMER GO" concept was nowhere to be found. The members donned various styles in complete black. With a mixture of leather, dark denim, and suede, the boys oozed brooding manliness for their new "BURST" comeback.
3. BURSTING GYUJIN
Today was a special day to celebrate the group's comeback, as well as to celebrate the birthday of dandy boy GyuJIn! GyuJin turned 18 today and we can just see him glowing with excitement and love. The newly turned blonde would make brooding poses as requested of the MC, but as soon as he let go of his pose, GyuJin returned to the smiling, bright dandy boy that we all know and love. Happy birthday, dearest GyuJin!
4. BURSTING WHITE NIGHT
The boys' opening performance was none other than their title track, 'White Night', and it was absolutely hypnotic. The song began, continued and ended with consistent powerful choreography. With their 180 degree change from summer boyfriends to men of passion, UP10TION brought their ferocity and fierceness onto their comeback stage. How is it possible that all 10 members can be in perfect sync? With such a difficult routine completely slain with KalGunMu, the fact that their live vocals were also on point proves the boys as true professionals. Their heavy breathing filled the hall at the end of their performance, and we had nothing more than applause for the boys.
5. BURSTING ALBUM
UP10TION highly recommends listening to the entire album of "BURST". One of UP10TION's strongest signature points is their fast beat dance tracks. However, the album has a total of 6 tracks that both encompass the group's dance track skills as well as their sweet ballad skills. The boys particularly suggest listening to their sub-track, 'Because'.
6. BURSTING BITTO
Bitto is a sick dancer. During their interview, Bitto's loving brothers Wei and HwanHee put him on the spot by asking hiim to showcase the main dance points of 'White Night'. Voted as the member who best performs their new choreography, Bitto took to the center stage and the performed two segments from the song - and it was beautiful. While watching the performance, make sure to have your eyes honed into Bitto, HONEY10s!
7. BURSTING XIAO
Our maknae is a maknae is no more. Xiao has changed completely, and it's a remarkable sight. The cutesy youngest became the focal point of "White Night" thanks to his well-built body. During the performance, Xiao lifted up his shirt to give us a nice look at his beautiful abs. With such a cute face, Xiao's manly abs took us by pleasant surprise. JinHoo shared an inside information that since Xiao is turning a legal age in just about a month, the maknae expressed his wish to forgo parts of his cuteness for a manlier look. Xiao's newly darkened locks definitely help with the image change.
8. BURSTING SOMI
SoMi of I.O.I was the special featured actress for the group's new music video. WooShin, who co-hosts "The Show" with the happy virus, shared that he told SoMi that HwanHee wished to become good friends with her. HwanHee, who took the main male lead role, told us that throughout the pair's long filming schedules he tried his best to become closer with SoMi. However, his brothers had another story to tell. Wei first spoke up to clarify that HwanHee was completely shy around the girl group member as he would be stiff and awkward around her and always flee to Wei's side. WooShin continued HwanHee's embarrassment by adding that SoMi actually came up to him afterwards to say that she doubted his past statement about HwanHee wishing to befriend her. We hope the cute pair can become quick friends one day!
9. BURSTING KUHN
Literally laughing out loud. As expected of the funniest member, Kuhn showcased his new impressions. Kuhn gave us his best impression of the voice from "VJ's On the Scene". In the show, there's a segment where the announcer introduces the latest eateries in this specific signature voice. Kuhn slayed it. He was exactly the same with an extra exaggeration for the humor effect. We'll be looking forward to Kuhn's new impressions for our next meeting as well!
10. BURSTING DREAMS
Just this past week, Wei and HwanHee took their college exams. WooShin told us that Wei has been looking into colleges a lot and expressed his wish to continue learning not only singing and dancing, but also acting. Wei took the opportunity to give a supportive message to the other students who had just taken their college exams, "Everyone… this year's college exam was particularly hard, wasn't it? I'm sure we all did well, and congratulations on completing the exam!" We wish for the best results for both Wei and HwanHee!
11. BURSTING BROTHERHOOD
If anything, UP10TION can be known for one thing. Their brotherhood. UP10TION's teamwork and love for each other shines each time we meet them. The 10 members play and joke around with each other like childhood friends to the point that we wonder if they had only met a couple of years ago. The boys create such a fun, friendly atmosphere that makes you want to join in and laugh together. With such strong teamwork, we can tell UP10TION will be a team to last through the ages.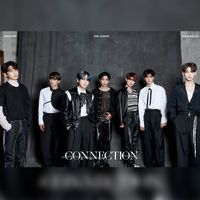 Became a fan of UP10TION
You can now view more their stories