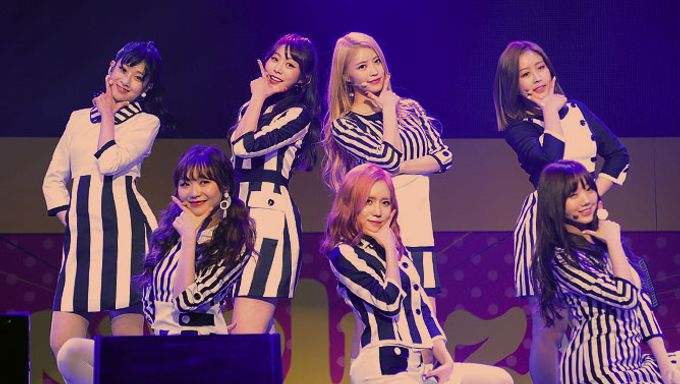 R U Ready for the 11 focal points of the lovely girls of Lovelyz's "R U Ready?" Showcase?
Lovelyz held their showcase for the group's 2nd album, "R U Ready?", today on February 27th at the Samsung Blue Square Hall in Seoul. The eight lovely ladies prepared a series of stunning performances, fun photo time and an in depth interview to introduce their long awaited album.
Must Read : MV )) Lovelyz – WoW!
Kpopmap was invited to the girls' showcase in order to bring the Lovelinus closer to their lovely Lovelyz!
Lovelyz's "R U Ready?" Showcase
Brought to you by your friends at Kpopmap.
1. R U FASHIONABLE?
The 8 ladies of Lovelyz came out on stage to greet the audience, and their new style took us by surprise. Each of the members were dressed in a variety of dresses that were decorated in black and white stripes. The most amazing fact was that each of the girls' outfits were especially designed for each member's personality. From cute, lovely and classy to chic, the group's fashionable style is definitely a point to look out for the group's new comeback promotions.
2. R U OK?
Although seven girls walked confidently onto the stage, the maknae YeIn walked carefully onto the stage. With her appearance, we all noticed that YeIn was wearing a thick bandage on her ankle. She explained that she had injured her ankle while practicing hard for the comeback. Regretfully, she had over exerted herself to put too much strain onto her ankle. Although she was unable to dance with the group, she took her spot within the group for interview sessions and photo time.
3. R U GIRLY?
As expected of young, youthful girls, one of the key characteristics of the group is their bright and contagious giggles. When asked what was most difficult about working with the 1Piece team since their debut, Babysoul humorously commented that she wished their producer would eat the snacks in their training room after knowing who's it belongs to. As if on cue, the eight girls burst into a fit of giggles and the audience couldn't help but smile at the high, cheerful sounds of the girls' laughs.
4. R U IN A UNIT?
The girls introduced us to a unique aspect of their new album – unit groups! The group was divided into three unit groups to feature on their new album. Babysoul, Kei and JIN were one unit who sang 'Dawn Star', MiJoo, SuJeong and YeIn sang 'The', and JiAe and JiSoo created the last unit to sing 'My Lover'. Each unit and their song were carefully chosen with each members' vocal styles and personalities, so the girls hope that their unit group tracks will also be loved by their fans.
5. R U A CAMEO?
For their opening stage, the girls performed their sub-track called 'CAMEO'. The song told a story of someone hoping to become a 2D love interest's main female lead. The song was adorable in every aspect as the girls continued to fill the stage with their lovely aegyo and cute gestures. Their choreography also featured unique dance points such as holding hands together and dispersing into different scenes for unique takes. YeIn who was unable to dance along with the group sat to the side and cutely danced along with her hands.
6. R U A SCENE STEALER?
During the whole showcase, we couldn't help but focus on one certain lady. On stage, JIN stole the scene with her amazing vocal skills as she belted out the high notes with her crystal clear voice. Ever since, you can't help but look forward to more of her parts in the group's performances. Off stage, JIN consistently kept one face on her face. Perhaps she was nervous about introducing their album in front of the huge audience, but she's blow up her cheeks and shyly look down more than a couple times during the showcase. With such a chic persona, all eyes turned to JIN when she would make her adorable expression.
7. R U READY TO WOW?
As the girls prepared for their main stage of their title track, 'WoW', the audience was given the chance to view the girls' new music video. The Lovelyz girls wanted to send a special message to their fans about their new music video. The music video was set in the background of a Lovelyz fan's home. The scenes were decorated with actual presents from fans, fan photos, and fan favorite videos. The girls revealed that a lot of fun secret items are hidden in the scene, such as the CDs of their signature producer, Yoon Sang. Lovelyz invites you to find all the hidden special items in their music video!
8. R U WOWED?
Lovelyz came back on stage to perform their title track, 'WoW!'. Lovelyz is known for their adorable dance points, but their new title track was jam packed with choreography points that we didn't know where to look! With every passing moment another burst of bright aegyo stole the stage. From finding which member will pop up to say 'WoW' to the little tummy rubs, the girls' new comeback stage will be an entertaining performance for fans and non-fans alike.
9. R U PRETTY?
JiAe is known as the member in charge of the group's killer parts. For their new track, JiAe introduced us to her new signature killer part for 'WoW!'. With the help of Kei, JiAe asks, "Is she pretty?" Then Kei would in turn ask "Is she pretty?" The girls' high pitched baby voices and their cute gestures of jealousy are definitely focus points of the new song.
10. R U DIETING?
One of the main compliments that the group has been receiving for their new comeback is the overall weight loss of the girls. SuJeong spoke up to express that she felt her weight loss was only her baby fat finally shedding away. She said that when she debuted at the age of 18, her baby fat made her look rounder than now, but with age, she's naturally lost weight. MiJoo also explained that the girls love to snack while practicing. Instead of feasting on chips and such, they switched out their snacks to a big box of clementine. By eating healthier, the girls went on a natural diet. She expressed that their fans all complimented them on their new look and that became one of the motivations for the girls to make a comeback.
11. R U READY?
Lovelyz's new album is titled, "R U READY?", for two reasons. First, the girls wanted to introduce the upcoming beautiful season of Spring with their new album that's full of bright and cheerful music. Secondly, the girls wanted to ask "R U READY to spend the Spring season with Lovelyz?" Lovelyz hopes that their fans will be able to spend the beautiful season with them by sharing memorable moments together during the promotional cycle. So, Lovelinus… R U READY?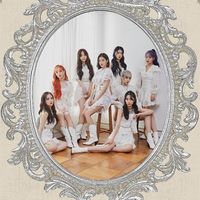 Became a fan of Lovelyz
You can now view more their stories