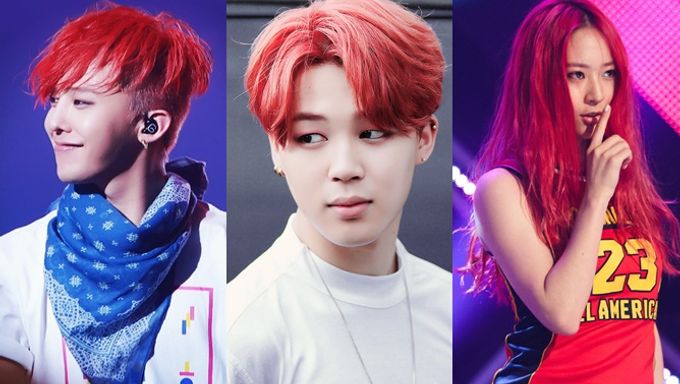 Black, brunette, blonde, blue, pink… These K-Pop stars know how to rock that cherry red look best!
K-Pop stars are always changing hair colors as frequently as with every comeback or every month! I'm sure all the dying process is killing their hair, but some idols just look better that way. Although Asians typically have dark brown hair, we think that these K-Pop beauties look best in that cherry red hair color. And we don't want them to change a thing!
Must Read : 11 Male K-Pop Idols Who Slay the Blonde Hair
Check out the 18 K-Pop idols who know how to slay the cherry red look!
1. B.A.P's DaeHyun
2. BIG BANG's G-Dragon
3. Nine Muses' MinHa
4. 2NE1's Park Bom
5. SHINee's Key
6. Girl's Day's YuRa
7. SNSD's Sunny
8. Up10TION's WooShin
9. EXO's BaekHyun
10. INFINITE's SungYeol
11. TWICE's ChaeYoung
12. VIXX's Leo
13. BTS's JiMin
14. BTS's Rap Monster
15. BTS's Suga
16. BTS's JungKook
17. BTS's V
18. f(x)'s Krystal
Must Read : Which K-Pop Girl Has The Best Bun Hair?