The I.O.I girls say their goodbye as a full 11 member group for the last time, and they ask one question: "(Will you) miss me?"
It's what all you've been waiting for! After months of separate promotions, the I.O.I girls are back as a complete 11 member group. With their 2nd mini-album, "Miss Me?", they ask their fans if they've missed them since their debut album, "Chrysalis". The album also ends on a sad note as they ask, "Will you miss me (once the group will no longer be promoting as a 11 member group)?"
Must Read : MV )) I.O.I – Very Very Very
To launch off the official celebration for their 2nd mini-album, the girls held a showcase at the Yes24 Live Hall located in Seoul. Kpopmap was invited to attend and we bring the fans closer to their girls through 13 things that can only be found in an I.O.I showcase!
I.O.I's "Miss Me?" Showcase
Brought to you by your friends at Kpopmap.
1. VERY VERY I.O.I
The girls came back with their hearts set on relaying their thanks and love for their fans. Looking back, the girls have only been promoting for a short period of time. Within the year, the girls had received a tremendous amount of love that most idols never experience in their whole careers. Through their memories that will last a lifetime, the girls only have their fans for making all of their promotions possible. The I.O.I girls revealed that the whole theme of the new album was 'Thanks'.
2. VERY VERY KANGNAM
As expected of the latest daesae girl group, the MC in charge of the showcase was definitely special as well. Usually, announcers or comedians would host the showcases, but the one and only KangNam came to host the girls' "Miss Me?" showcase. With his unique humor and entertaining speaking skills, KangNam brightened up the stage with his own stage presence. You could tell the idol senior has a close relationship with the girls as he continually played around with the girls to help them feel more comfortable in front of the reporters.
3. VERY VERY SOMI
The girls held a specific time for photos and each member came out with their very own cute aegyo poses. But one member particularly stood out from the rest. None other than the happy virus SoMi stepped up the posing game with her very own SoMi-style. She not only did the standard heart, wave and smile, SoMi turned up the stage with her charismatic, sexy model poses. After each confident pose, SoMi would return back to the giggly young girl that we all know and love. She truly revealed her signature contrasting personality appeal.
4. VERY VERY CHEERLEADERS
Following their "Chrysalis" promotions as Dream Girls, the I.O.I returned with an even brighter image of cheerleaders. The girls coordinated in cute tennis outfit-inspired stage outfits. As expected of one of the trendiest girl groups in K-Pop, the girls perfectly slayed the crop top and high waisted bottom cheerleader looks in the cutest fashion possible. Each member made the concept their own through various accessories and colorful accent points. YooJeong explained that their color concept was "Peach", which is the fruit that's in season right now.
5. VERY VERY VERY
How can a girl group be even cuter than I.O.I's new "Very Very Very"? With the most adorable aegyo choreography and the heart melting expressions, the girls are the definition of Nation's Younger Sisters. Written by the Asian Soul himself, "Very Very Very" is a fun and playful song that has adorable dance moves that you can't help but follow along to. As soon as the track hit the market, it conquered the 1st place spot throughout multiple music charts. The "Very Very Very" promotions are a solid that we can definitely look forward to.
6. VERY VERY CHUNGHA
Talk about boss dancer. At the beginning of "Very Very Very", ChungHa has a small solo stage where she dances in her signature sexy manner. We fell in love, and it was inevitable. The way she moves her body with that fierce charisma is 100% girl crush worthy. Although each member had their own appeals throughout the stage performance, you couldn't help but follow ChungHa along with your eyes. She was just born with that special dancers' blood that captivates the audience with each move.
7. VERY VERY JINYOUNG
"Miss Me?" is an album that is very full of talented JinYoungs! As many of the fans probably know, Park JinYoung of JYP had taken the reigns in composing the girls' title track. As the CEO of I.O.I's center SoMi, the Asian Soul pulled out a special song for the girls that is sure to be a hit. Alongside the producing genius, another up and coming star composer of the same name took part in the group's album. B1A4's JinYoung composed the girls' sub-track, "Hold Up". Even through both of the JinYoung's hectic and busy schedules, the producers took the time to pull out some fantastic tracks for the girls' newest album. The girls especially took the time to thank all of their producers for a wonderful mini-album.
8. VERY VERY HOLD UP
I.O.I performed a second song during their showcase and it was the song written by the latter JinYoung. B1A4's star composer did a wonderful job. "Hold Up" was a beautifully written song that perfectly showcased each members' vocal qualities, all the while sending the perfect message. As it is the group's last album, the lyrics ask you to wait, remember and not leave the girls behind. As the lyrics say, the girls hope that their fans will always remember their times together with I.O.I and hold the groups' promotions as I.O.I a sacred memory.
9. VERY VERY SOHYE
It's only been a matter of months since the girls' previous promotions, but each member has gotten prettier than ever. Compared to their "Pick Me" days, the girls have become more mature and overall glowing in beauty. Although each member's image had changed, SoHye the Penguin definitely caught the eyes of the crowd. With her baby fat slowly shedding away and her confidence growing each day, SoHye is becoming more girl crush with each day. The Penguin may only be penguin for a little while longer, because her pale complexion, red lips and dark wavy hair makes us think more of Snow White.
10. VERY VERY SEJEONG
The I.O.I girls were nervous standing in front of so many reporters, while answering questions as best as they could. However, one member was definitely in her zone much more so than the others. SeJeong not only clearly explained her answers, but also stated it in an organized matter, while even making it entertaining! Every time she spoke, her natural aegyo just drizzled out as her facial expressions were pure gold. KangNam, who was having a difficult time MCing a showcase for the first time, even complimented the idol on her talking talent.
11. VERY VERY PINKY
During the interview session, Jung ChaeYeon discussed about how this was the last mini-album to come out for the I.O.I project group. As her member was reviewing their past, present and future, Zhou JieQiong couldn't help but shed a tear next to her I.O.I sister. As the only foreign member of the group, it touched the hearts of the audience how much Zhou JieQiong had grown fond of the group. It showed just how close the bond between the girls had grown. It's ok, Pinky... We're bawling on the inside too!
P.S. How did this girl get so good at Korean? Her Korean skills had improved so much that she could've fooled anyone as an original Korean member!
12. VERY VERY PRACTICE
The topic of half of the girls not being a part of another girl group came up during the interview session. When asked what their plans outside of I.O.I were, the girls each took turn to explain their future plans. Although some of the girls are already a part of other girl groups, some other girls have yet to find an official debut group. After their I.O.I promotions, some of the girls will be going back to practicing as trainees. Although it may feel like a step back, the girls were bright and positive as they expressed how they looked forward to practicing harder to hone up their skills in order to officially debut again as their own girl group. Until then, the girls all plan on putting their all into finishing their "Miss Me?" promotions strongly and happily.
13. VERY VERY PROMISE
I.O.I is definitely a historical girl group in all of K-Pop. Before, the thought of creating a girl group with members from different companies was nearly impossible - but I.O.I did it. Although the idols may be saying their goodbyes after their "Miss Me?" promotions, the girls promise to return as an 11 member group again. Whether it be in 5 years or 10, the girls promise their fans to make a surprise comeback for their beloved fans. In the meantime, the girls will be holding their last concert together during their "Miss Me?" era.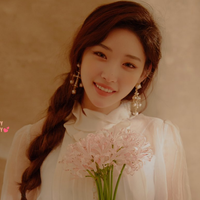 Became a fan of ChungHa
You can now view more their stories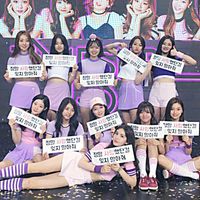 Became a fan of I.O.I
You can now view more their stories