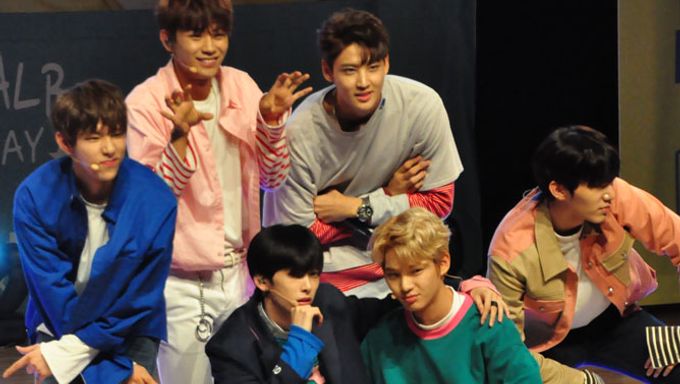 Kpopmap joined HALO for their 2nd mini-album, "Happy Day" comeback showcase!
With over 2 years under their belt, veteran rookies HALO return new and improved for their summer comeback on August 31st, 2016. HALO (OOon, Dino, InHaeng, JaeYong, HeeChun and YoonDong) made their comeback with their 2nd mini-album, "Happy Day" after 9 long months of preparation. The boys shed their past and only look forward to their bright future with an energetic title song, "Maria".
To bring the HaVes closer to their beloved idols, Kpopmap covers the boys' latest showcase in 14 brief, yet bold, points. HALO's "Happy Day" Showcase was held today on their debut day at IlChi Art Hall, located in the hottest location of Seoul. HALO showcased their new tracks "MaRiYa (Happy Day)" and "We, Pure", as well as held an intimate time for photos and interviews.
Must Read : Teaser )) HALO 2nd Mini Album 'Happy Day' Official Photos
Get ready to finish off summer with your HALO boyfriends with the 14 things only found at a HALO showcase!
 HALO's "Happy Day" Showcase
Brought to you by your friends at Kpopmap
1. HAPPY BOYFRIENDS
As expected of such stunning idols, the HALO boys returned with a boyfriend concept for their HaVes. Each member was dressed head to toe in vibrant colors that would be perfect for a lovely date. Looking at each member, you can't help but find your ideal type amidst the HALO boys. Each member held their different characteristics in their own personal style. Find your ideal type here! 
2. HAPPY SHY JAEYONG
During the brief photo time with the boys, we found one of the cutest HALO sightings! JaeYong confidently walked up to the center for his individual cuts, but as he was posing, the MC asked him for his own "boyfriend" pose. At the request, JaeYong's face slowly turned to a shade of red as a shy smile crept up to his face. His gaze turned down as he adorably contemplated on what pose to take. At the end, JaeYong ended up posing in their signature heart point dance. That shy smile, though. 
3. HAPPY INHAENG
Charismatic voice that just makes you want to wish he would call you at night right before you go to sleep. HALO's main rapper, InHaeng caught our eyes (more like our ears) during their first performance, called "We, Pure". His deep, sultry voice just made us feel things down to our cores. But that's not all. During their performance for "MaRiYa (Happy Day)", his voice turns high and energetic giving off a funky feel. A rapper with two different tones?! How could we ask for more?
4. HAPPY HEIGHTS
Usually, K-Pop idols lie about their actual heights for the profile. That's why we were skeptical of their average profile heights of over 180 cm. But we were terribly wrong. The boys were refreshingly tall with such good visual proportions that we wondered why they have yet to gain the "model-dol" status. Look out, KNK! Another group is headed for your title.
5. HAPPY PURITY
The HALO boys performed their sub track, "We, Pure", as their opening performance. The smooth yet soulful voices of the HALO boys blew us away. We were pleasantly surprised to find out that the song was written and composed by their oldest member, Dino. Although Dino was always composing during his free time, this track was his first in actually making onto the album. Congratulations to Dino on a successful and beautiful song!
6. HAPPY OOON
Not only are HALO record artists, but they also act too! OOon announced that he started filming for a new drama titled, "HwaRang: the Secret" on KBS. The hyped up drama features other various idols and big league names, such as Go Ara, BTS's V and SHINee's MinHo to name just a few. The drama is set to finish its filming in September and air its first episode in December of this year!
7. HAPPY OREO
As much as the boys were excited for their first showcase, they were also very excited for the finished quality of their latest album. GFriend's main producer, Lee Gi's composing team "Oreo" arranged the whole album, as well as much of the composing. With such an impressive backing for the album, the boys' latest album is worth a good listen!
8. HAPPY RAPPER
One of the most entertaining aspects of the night was InHaeng's constantly bright energy and adorable gestures. Although he has such a serious resting face and a stoic concept as a rapper, it turns out that our main rapper has such an adorable side to him. A true scene stealer!
9. HAPPY FASHION
We mentioned how the boys dressed up in boyfriend material clothing, but we didn't tell you just how perfect their outfits were! The shoes popped out at you with adorable colors that matched very well with their boyfriend concept clothes. The fashion coordinators for the boys must seriously love them, because their outfits were on point with vibrant colors that also worked well in welcoming the fall season. 
10. HAPPY  DAY
A must see of HALO's comeback! "MaRiYa (Happy Day)" was full of entertaining choreography that had you captivated all throughout the performance. If anything, "Happy Day" is definitely something you need to watch if you want to fully appreciate the entirety of HALO's comeback.
11. HAPPY COWBOYS
During the choreography of their title track, the HALO boys reenact a western scene as JaeYong and OOon are doors that YoonDong, followed by InHaeng and Dino, bursts through to shoot his love. All the while, HeeCheon stand to the side as a cactus. Refreshingly adorable! 
12. HAPPY BABY FACE
When the boys were asked about their individual charm points, Dino showcased his baby face appeal! At first glance, you would have no idea that Dino was the oldest member. His puppy face and soft gaze give off a baby glow. Dino gave us his special secret in looking young - lower your bangs and just smile often! Just by looking at him you'd think of a gold retriever puppy that you want to squeeze tightly to your chest!
13. HAPPY HEECHEON
So much wit. When asked for poses, he would always be the most creative one. Most notably, when the boys were asked to pose in their most alpha male poses, HeeCheon clearly tried his best to look manly, but ended up looking so dorky. Perhaps its his lanky stature, but he was definitely cute than alpha. 
14. HAPPY HAVE
If you weren't aware,  HALO's fandom name is HaVe (Halo + Love). At the end of the showcase, the boys specifically asked the reporters to delay a message for their beloved HaVes. Through their long preparations, HALO were unable to spend much time with their HaVes. Now that the boys are back, each member wished to see more of their fans again and get to know each other more through their upcoming promotions. We don't doubt that the HALO's love for their fans will reach across to globe to warm the hearts of all HaVes.
Must Read : Showcase )) HALO "HAPPY DAY" Press + Stage Photos (+150 pics)
Did y'all enjoy your Happy Day date with your HALO boyfriends?
Make sure to stay tuned for our next showcase experience by following us on Twitter and Facebook!