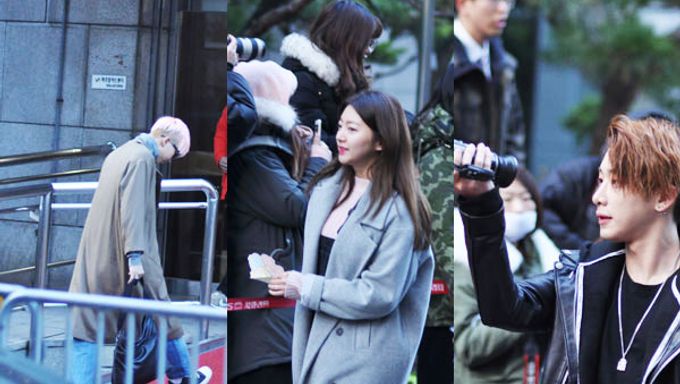 BTS's walk was hard to catch.
After their manager's assaultive actions toward the BTS members were caught by fans, BTS's move has become very careful. Finally, the agency announced the official apology about their careless personnel management, ignorance about the aggressive manager's attitude, and fired him. Since the dishonorable case of their manager, BTS avoided the long-walk to Music Bank. However, their car parked closer to the main gate of the building so that their walks were exposed very shortly, and fans were disappointed in the short walk.
Must Read : BTS Officials Apologize For BTS' Abusive Manager
The rookie girls, LABOUM, are super-kind angels. They shared out their heater-packs to the fans during their walks to Music Bank. They sincerely worried about fans, who must have been standing there for more than 3 hours, and tried to protect them from the cold weather by handing their warm heater-packs. When their heater-packs were all handed out, some members said sorry for not giving more. How warm-hearted idols! All of their fans were moved by their loving idols' good deed.
While all the K-idols were busy to walk and greet to their fans both simultaneously on the walkway to Music Bank, Monsta X's Wonho was even crazily busier. He was taking self-cam video while walking there. It was so funny to watch this unique boy behaving like a cameraman and tried to take video of self and his fans. He greeted to his fans through the camera lens, and his fans smiled at his humors. This is assumed to be his little event for his fans waiting for the idols for long time outside. Because of him, fans enjoyed more.
Must Read : Who Was The Best Male Rookie Of 2015?