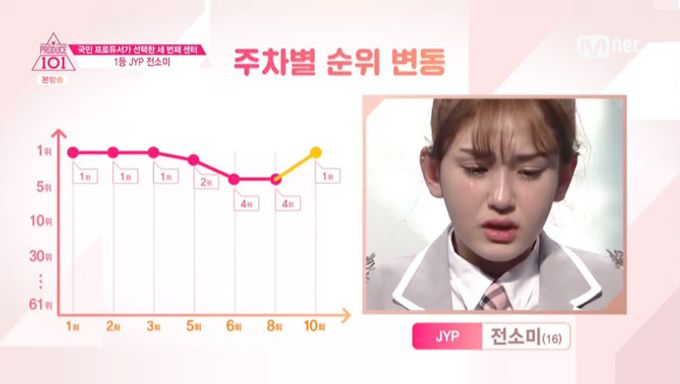 "Produce 101" contestant Jeon SoMi finally showed her full potential!
On the latest episode of Mnet survival show "Produce 101", the final TOP22 contenders for the first season of Produce 101 have finally been chosen. The 10th episode of the trainee survival program aired on March 25nd via Mnet, where the contestants underwent four rounds of battles as they strived for a place in the TOP22. After a grueling time of hard work and practice, some candidates were already given benefit votes through the 4th competition.
Must Read : Produce 101 Kim SoHye Previously Volleyball Player
On the March 25 broadcast of Produce 101, Jang GeukSuk announced on the show, "We will announce eleven addition tarainee girls that will be added to the Top 22 list." Prior to the announcement, Kim HyungEun of K-Conic Entertainment, Park SiYeon of Pledis Entertainment, Kwon EunBin of CUBE Entertainemnt and Kim JooNa of music K Entertainment made the cut. The MC called out Kim NaYoung of Jellyfish Entertainment, Kang SiRa of ChungChun Music Entertainment, Pakr SoYeon of LOEN Entertainment, and more as the remaining the Top 22 contestants of "Produce 101". SoMi of JYP Entertainment scored her an overwhelming win and impressed the many viewers. 
Meanwhile, MC Jang had an especially difficult time saying good-bye to other trainee girls who were eliminated at the semifinals of the show. The Top 11 Contestants:
#11 Yu YeonJung from Starship Ent
#10 Kim DoYeon form Fantagio Ent
#9 Lim NaYoung from Pledis Ent
#8 Han HyeRi from Star Empire Ent
#7 Yoon ChaeKyung from DSP Ent
#6 Kim SoHee from Music Works Ent
#5 Kim ChungHa from M&H Ent
#4 Kim SoHye from Led Line Ent
#3 Choi YooJung from Fantagio Ent
#2 Kim SeJeong from Jellyfish Ent
#1 Jeon SoMi from JYP Ent