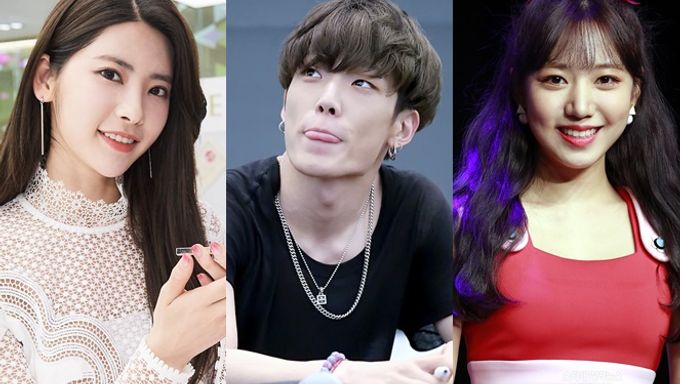 Birth year is a special year! What year were you born in? Here, special idols were born in 1995!
Today, we will talk about charming idols who have lots of common features.  If you were born in the year of the pig, you have the same age with these K-Pop stars I mention now. We've listed 21 idols of the 1995 pig. Take a look to see if these celebs fit the zodiac description!
Who are the K-Pop idols that have the same age as you? Who knows…maybe you share the same birthday as someone special.
Must Read : REPLY 1993! 10 K-Pop Idol Girls Born in 1993
1. AOA's SeolHyun
(January 3)
2. MAMAMOO's Hwasa
(July 23)
3. BTS's JiMin
(October 13)
4. GFriend's SoWon
(December 7)
5. SEVENTEEN's S.coups
(August 8)
6. TWICE's NaYeon
(September 22)
7. Lovelyz's Kei
(March 20)
8. BTS's V
(December 30)
9. Melody Day's Yein
(May 4)
10. SEVENTEEN's JeongHan
(October 4)
11. WJSN's BoNa
(August 19)
12. NCT's YUTA
(October 26)
13. NU'EST's MinHyun
(August 9)
14. WJSN's EXY
(November 6)
15. OH MY GIRL's JinE
(January 22)
16. BTOB's Yook SungJae
(May 2)
17. NU'EST's JR
(June 8)
18. NU'EST's Baekho
(July 21)
19. Apink's Kim NamJoo
(April 15)
20. OH MY GIRL's Mimi
(May 1)
21. DIA's Ki HuiHyun
(June 16)
22. EXID's JeongHwa
(May 8)
23. NCT's TaeYong
(July 1)
24. iKON's BOBBY
(December 12)
25. DIA's JooEun
(June 7)
26. SEVENTEEN's Joshua
(December 30)
27. Mamamoo's WheeIn
(April 17)
28. WJSN's XuanYi
(January 26)
29. VIXX's Hyuk
(July 5)
30. B.A.P's JongUp
(February 6)