Guess which two SEVENTEEN members fought angrily with each other for nearly two hours?
SeungKwan recently revealed through a live broadcast how JeongHan and MinGyu used to fight and argue with each other for long periods of time.
So how did JeongHan and MinGyu deal with their arguments? Apparently, the two would usually yell in each others' faces for nearly two hours and vent out whatever they needed to say. And usually after a while, they'd wear themselves out and realize that they wasted too much time and energy on arguing. JeongHan even once lost his voice after yelling so much.
You might be wondering what the two were arguing so angrily over. According to SeungKwan, it was because they were arguing over an uncleaned practice room.
You can listen to SeungKwan for yourself below!
GyuHan fighting story
When they were trainees Mingyu & Jeonghan fought for 1 & half HOURS standing AT THE SAME PLACE FACE TO FACE YELLING AT EACH OTHER, both for not cleaning practice room. At the end they got tired & left JH lost his voice shouting ??@pledis_17 pic.twitter.com/Bu4aivl4eu

— mi원? (@mi_won17) January 16, 2020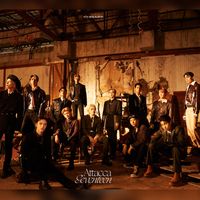 Became a fan of SEVENTEEN
You can now view more their stories