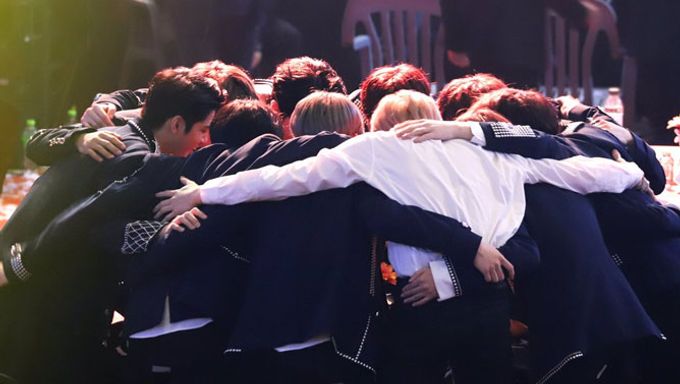 The annual award ceremony is back for its seventh year. On Feburary 14th, the 7th Gaon Chart Music Awards, which will be recognizing awards for 2017, took place. The MCs for the night were Super Junior's Lee Teuk and TWICE's DaHyun.
The Gaon Chart Music Awards, also known as the Gaon Chart K-Pop Awards, is a major music awards show that is held annually in South Korea by the national music record chart Gaon Chart. This year's winners are based on Gaon's aggregate data for 2017's song and album sales.
Following are the winners of the 7th Gaon Chart K-Pop Awards.
- Winners from The 7th Gaon Chart Music Awards -
Album of the Year
1st quarter ㆍ 2nd quarter
BTS ㆍ Seventeen
 3rd quarter ㆍ 4th quarter
BTS ㆍ Wanna One
Song of the Year
January ㆍ February ㆍ March ㆍ April
AKMU ㆍ TWICE ㆍ IU ㆍ IU
May ㆍ June ㆍ July ㆍ August
PSY ㆍ G-Dragon ㆍ EXO ㆍ SunMi
 September ㆍ October ㆍ November ㆍ December
SECHSKIES ㆍ Epik High ㆍ Wanna One ㆍ TWICE
New Artist of the Year
Male Group ㆍ Female Group
Wanna One ㆍ none
Male Solo ㆍ Female Solo
Woo Won-jae ㆍ none
Discovery of the Year
Hip-Hop ㆍ Indie
ChangMo ㆍ MeloMance
R&B ㆍ Ballad
Heize ㆍ Hwang ChiYeul
Long-Run Song of the Year
IU's "Through the Night"
Popular Singer of the Year
Yoon JongShin's "Like It"
International Song of the Year
Ed Sheeran's "Shape of You"
International Rising Star of the Year
Shawn Mendes
Composer ㆍ Lyricist of the Year
Pdogg ㆍ IU
Performers of the Year
Backup Vocal ㆍ Instrumental
Kang TaeWoo ㆍ Lee SeungYeob
Style of the Year
Choreographer ㆍ Stylist
Lia Kim ㆍ Kim YeJin & Choi KyungWon
Producer of the Year
IU (Fave Entertainment)
K-pop Contribution Award
Yoon JongShin
Hot Performance of the Year
NU'EST W ㆍ GOT7
Mobile Vote Popularity Awards
TaeYeon ㆍ Wanna One
World Hallyu Star
GOT7
World Rookie Award
BLACKPINK
Congratulations to all of the winners!
Must Read : 2018 Gaon Popularity Awards Final Vote Ranking