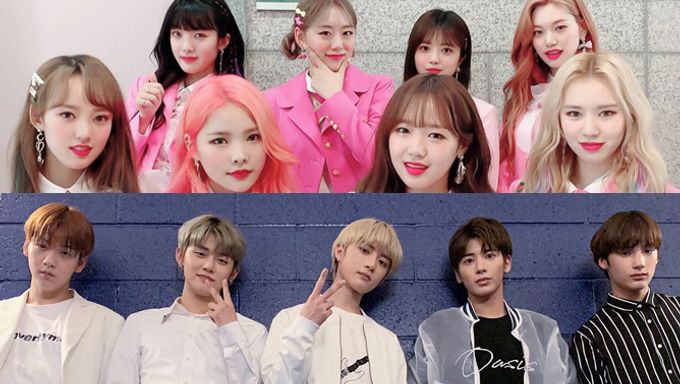 Have you ever heard of a K-Pop festival that lasts for 10 days? Well, here is your chance to find out more about "2019 K-World Festa"!
Running for 10 days, K-Pop fans are bound to to be overwhelmed by the amount of stages and performances that will be taking place in the festival. With Hallyu taking over, we cannot forget that it all began with K-Pop, K-Drama, K-Star, and K-Story.
According to the organizer for this event, these are the 4 main aspects that made up K-Culture. They hope that through this event, fans in Korea as well as overseas would be able to participate and share their love for Hallyu.
In addition, the annual "Soribada Music Festival (SOBA)" will also be part of this long awaited festival!
Find out who will be attending and how you can get your hands on the tickets!
2019 K-World Festa
-Opening Ceremony Day 1-
MC: Ong SeongWu
Kim JaeHwan
THE BOYZ
Weki Meki
NewKidd
DIA
1THE9
Kim DongHan
ACE
DREAMCATCHER
D1CE
Jeong SeWoon
Nature
Park Bom
Lim JaeHyun
1THE9
-Opening Ceremony Day 2-
MONSTA X
Red Velvet
NCT DREAM
Lovelyz
Golden Child
Nam WooHyun
CLC
JBJ95
Nature
DJ DOC
MOMMY SON
MinSeo
K.A.R.D
OH MY GIRL
Hwang ChiYeol
-The Show-
MC: NCT's Jeno, CLC's YeEun
Special MC: VICTON's ByungChan
A.C.E
CIX
JBJ95
NCT DREAM
THE BOYZ's New
TRCNG
Golden Child's JooChan
GWSN
NORAZO
D1CE
Rocket Punch
BUDY
Weki Meki
-Celeb TV-
MC: AB6IX's DaeHwi, Ha SungWoon
AB6IX
Ha SungWoon
ITZY
Nature
-Soribada Music Awards (SOBA)-
Day 1 (Aug. 22)
TWICE
MAMAMOO
Ha SungWoon
CLC
OH MY GIRL
MOMOLAND
Nam WooHyun
Lee ChangMin
N.Flying
JinSung
WJSN
ChungHa
Weki Meki
LOONA
ITZY
ATEEZ
Stray Kids
Day 2 (Aug. 23)
Park JiHoon
Kim JaeHwan
Red Velvet
NCT 127
TXT
AB6IX
Lovelyz
(G)I-DLE
YB
Yang DaIl
Song GaIn
Jung MiAe
HongJa
Lee Woo
Kim SooChan
ASTRO
THE BOYZ
A.C.E
SNH48
NATURE
NewKidd
ONEUS
-Closing Ceremony-
MC: Lee SangMin, Shin AhYoung
Super Junior
Stray Kids
Ha SungWoon
ITZY
(G)I-DLE
N.Flying
Nature
Cherry Bullet
ATEEZ
April
ONEUS
KiSum
LOONA
[INFO]
Date: Aug. 15 to Aug. 24, Thursday to Saturday
Opening Ceremony: Aug. 15 & 16, Thursday and Friday 6:30 pm KST
OST Concert: Aug. 15, Thursday
Band Concert: Aug. 17, Saturday, 6 pm KST
Miss Trot Concert: Aug. 18, Sunday
KSMF (K-Soul Music Festival): Aug. 18, Sunday, 4 pm KST
SBS The Show: Aug. 20, Tuesday, 6 pm KST
Celeb TV Live Show: Aug. 20, Tuesday, 7 pm KST
K-Hip Hop Concert: Aug. 21, Wednesday, 8 pm KST
K-Movie Star Movie Showcase: Aug. 21, Wednesday
Soribada Music Awards: Aug. 22 & 23, Thursday and Friday, 6:30 pm KST
Kim JaeJoong Concert: Aug. 24, Saturday, 5 pm KST
Musical Color Concert: Aug. 24, Saturday
Closing Ceremony: Aug. 24, Saturday, 7 pm KST
Venue: KSPO Dome, SK Handball Stadium, Olympic Hall, HanEoul Square
[Ticket]
Opening ceremony: Link (Open on July 3, 2 pm KST)
Closing ceremony: Link (Open on July 3 4 pm KST)
Celeb TV Live Show: Link (Open on July 3, 6 pm KST)
Soribada Music Awards: Link (Open on July 3, 8 pm KST)
Kim JaeJoong Concert: Link (Open on July 4, 2 pm KST)
KSMF (K-Soul Music Festival): Link (Open on July 4, 2 pm KST)
K-Band Concert: Link (Open on July 4, 3 pm KST)
K-Hip Hop Concert: Link (Open on July 4, 4 pm KST)
SBS The Show: Link (Open on July 4, 6 pm KST)
Soribada Music Awards Blue Carpet: Link (Open on July 4, 6 pm KST)
Read More : Lotte Duty Free Family Concert 29th: Lineup