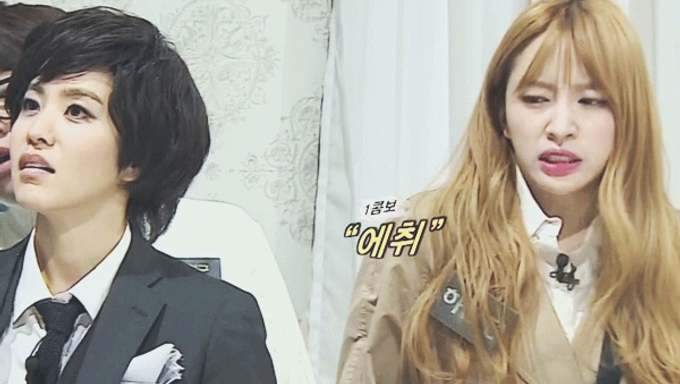 Fans share funniest videos of their stars mid-sneeze.
Despite their aggressive appearance at the exact moment, the stars are actually just getting ready to sneeze. In a new trend sweeping the web, their fans are posting videos of their bias as they gear up for a good achoo. As you know they primarily sneeze for the same reasons that we do. And these proved that even celebs can look silly and lose their composure – just like us.
The craze began in Korea, where amused fans started sharing their short clips on line. They look really, really weird just before they sneeze, with their ordinarily cute faces ferociously or hilariously screwed up and twisted. So what are the principal attractions of today? Well, there is!
14 Hilarious Moments Of Stars That Are About To Sneeze 
1. SNSD Sooyoung ver.
2. SHINEE Minho ver.
3. APINK Chorong ver.
4. APINK Bomi ver.
 5. AOA Choa ver.
6. EXID Hani ver.
7. BTOB Lee Chang Seob ver.
 8. BOYFIREND Minwoo ver.
 9. BEAST Lee Ki Kwang ver.
 10. f(x) Krystal ver.
 11. SNSD All Members ver.
 12. SNSD Taeyeon ver.
 13. BEAST Doojun ver.
 14. Min Kyung Hun ver.
Viewers have left dozens of original and witty comments such as 'bless you,' 'what a cute IDOL' and so, it says 'Cock-ACHOO-dle-doo'?