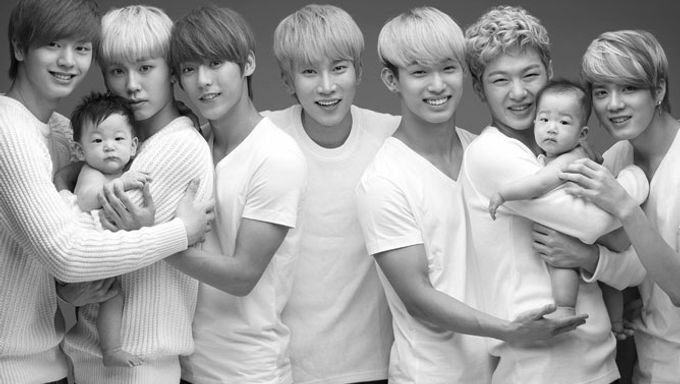 Get ready, ladies. These male K-Pop idol baes are going to melt your heart with babies.
We all have our fav K-Pop idol baes; and let's be honest, we maybe secretly but most definitely imagine what it would be like for them to be your baby daddy. Just the sight of these hawties handling these babies with the utmost loving care does things to our hearts. Although they may be too young to be a father, although they may be too distant for us to actually meet, although the percentage of actually having an idol for a baby daddy may be slim to none, we can only dream! And to help us with our fantasies, here are 25 male idols loving the heck out of these babies.
Must Read : Photo )) EXO Kai With His Baby Doppelganger, 'Oh My Baby' Teo
Who knew I could ever be so jealous of a baby!
1. T.O.P - BIG BANG
2. DongWoon - BEAST
3. MinHyuk - BtoB
4. Peniel - BtoB
5. SungJae - BtoB
6. V - BTS
7. Kai - EXO
Must Read : Video )) Baby Xiumin Penguin Dance (EXO 1st Place Promise)
8. SeHun - EXO
9. BaekHyun & ChanYeol - EXO
10. Mark - GOT7
11. DongWoo - Infinite
12. L - Infinite
13. SungGyu - Infinite
14. WooHyun - Infinite
15. JaeJoong - JYJ
16. InSoo - MyName
17. HongBin - VIXX
18. Hyuk - VIXX
19. Ken - VIXX
20. Leo - VIXX
21. N - VIXX
22. TaeHyun - WINNER
23. WINNER
24. KwangHee - ZE:A
25. TaeYang - BIG BANG with Haru (Tablo's Daughter)
Must Read : 12 K-Pop Male Idols Who Look The Same As Baby Photos
Have you found your imaginary baby daddy? Let us know who your bias is!