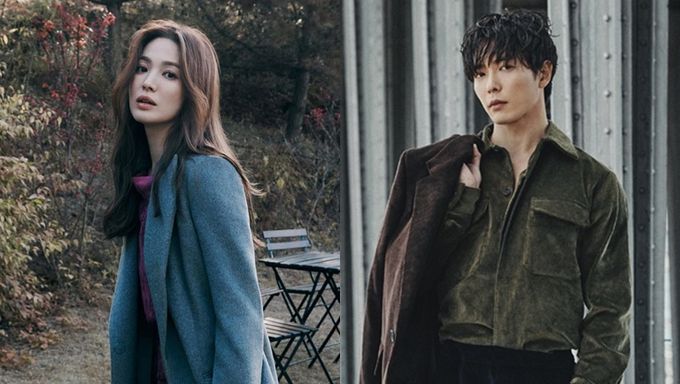 Update (Jan. 5): Jang KiYong was reported in talks but that was later denied by his agency.
Song HyeKyo is in talks for a new drama "Now, We Are Breaking Up"! She is still considering.
Since the announcement of the return of the top Hallyu actress to the screen, fans have been excited. It will be her first project after "Encounter" in 2018.
"Now, We Are Breaking Up" is a romance drama in the fashion world about break up. The writer is Je In who was in charge of "Misty" and the director Lee GilBok who worked on "You Who Came From the Stars", "Vagabond", "Dr. Romantic", and more.
Song HyeKyo would act as Ha YoungEun, the team leader of a fashion company's design team. She is cold, realistic, smart, and prioritizes safety. Ha YoungEun might be 38-year-old but she takes extra care of herself to stay young and beautiful because of her job as a designer in a fashion company. She makes sure she is awarded for her work and she is not the style to be emotional when dating.
Originally actors Soo Ae, Yoo TaeOh, and Yoon JeongHee received the offer but they declined the offer due to schedule issues.
Looking at the role offered to Yoo TaeOh, it is most probably the same that will be offered to the male lead which is yet to be released. The male role is most likely to be Yoon JaeGuk, a freelance photographer specialized in fashion.
The production team is still casting and fans can't help but wonder who could be the male lead along with Song HyeKyo (if she accepts). These 3 actors could be perfect for the role.
Let us know in the comments and in the poll who do you think should take the role of Yoon JaeGuk according to you.
1. Kim JaeWook
Kim JaeWook is 37 years old and would perfectly suit the role of someone working in the fashion world. Kim JaeWook acted in dramas such as "Coffee Prince", "Voice", "Temperature of Love', "The Guest", "Her Private Life", and more.
2. Park HaeJin
Park HaeJin is 37 years old and skilled in romance dramas. He always has great chemistry with fellow actress and would be amazing with Song HyeKyo. He previously acted in the dramas "You Who Came From the Stars", "Doctor Stranger", "Cheese in the Trap", "Forest", "Kkondae Intern", and more.
3. Kim JaeYoung
Kim JaeYoung might not be known to many but he is very talented. He is 32-year-old and a rising actor. Kim JaeYoung would be perfect in the role of a fashion photographer with a mature look. He acted in the dramas "100 Days My Prince", "Secret Boutique", "Beautiful Love, Wonderful Life", and more.
Who do you think should be acting with Song HyeKyo in Now, We Are Breaking Up?
Nov 10, 2020 ~ Nov 30, 2020
Note: The aim of the vote is for Kpopmap readers to share their opinion about their preference for the lead actor. It is not affecting the cast of the production team.