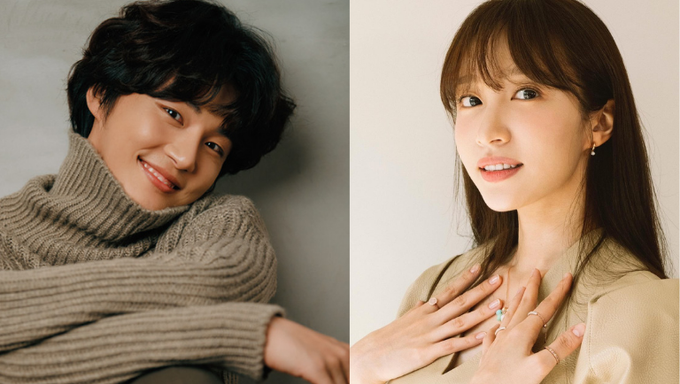 "You Raise Me Up" is the new upcoming K-Drama that has netizens buzzing, starring EXID's Hani and Yoon ShiYoon. The K-Drama will be released on Aug. 31. 2021, on the streaming platform wavve.
"You Raise Me Up," tells the comedic story of Do YongShik (Yoon ShiYoon's character) who is preparing to become a civil servant but also has a medical issue that requires treatment by a urologist (a doctor who treats the male reproductive system). Little does he know that he will meet his ex, Lee RuDa (EXID Hani's character), again as the urologist who treats him.
Park KiWoong will also have a role as Lee RuDa's arrogant boyfriend Do JiHyuk, a psychiatrist in the same building as her. He is perfect and he knows it. In an attempt to humble him, she brags about how amazing her ex-boyfriend was, not knowing the truth. To avoid her current boyfriend seeing Do YongShik as he is, she sets on a mission to help him improve his life and better his self-esteem.
1. Quirky storyline
Just from reading what the drama is about, you can tell that the characters are bound to get into awkward encounters and the story will be full of weird but funny moments.
Yoon ShiYoon said that he was attracted to the role because it takes on an unexpected subject. He said it felt like a real story that had unexpected turns, much like daily life. He also says he learned a lot from playing the role of someone with that medical issue and the effect that it has not only on the body but the mind.
The story also makes a lot of commentary on youth and younger generations. Yoon ShiYoon said that the story is so entertaining that he couldn't stop reading after picking up the script. It is filled with pleasant stories and lots of sympathetic moments to look forward to.
2. Chemistry between the lead characters
Do YongShik is in despair and feeling helpless. He struggles a lot before finally seeking help. Unfortunately, the person who can help him is his first love. She is from a well-off family and has a successful career. He has to deal with the embarrassment of her knowing his problem and dealing with her trying to help him as he saves face. He will have to do a lot of emotional and mental work to maintain his self-esteem whenever he meets with her.
If you add in the factor of Lee RuDa's wealthy and perfect but arrogant boyfriend, Do YongShik is very likely to have a rollercoaster ride of emotions throughout the drama. The dynamic between the lead characters should be interesting to watch.
3. Metaphorical message
새우🦐처럼 굽은 팔자!
근데 왜 새우🦐지 못하니?
-
고개 숙인 인생, '그곳🙈'과 함께 우뚝 서다!
-
윤시윤X안희연 섹시 발랄 코미디! #유레이즈미업 8월 31일 전편공개#웨이브오리지널
유미업도 #웨이브에있었어
-#윤시윤 #안희연 #박기웅 #YouRaiseMeUp #유미업 pic.twitter.com/ShZLO5bI4T

— wavve(웨이브) (@wavve_official) August 10, 2021
The shrimps in these posters for "You Raise Me Up" are a metaphor and have a double meaning. The bent shrimp represents Do YongShik's form when he meets Lee RuDa. Hopeless and with his head down.
In the other poster, the shrimp is standing up straight. That means that he will get out of his slump and be able to get confident again.
This official tweet makes a funny but naughty joke, telling Do YongShik to raise his head from hopelessness along with his 'other problem.'
Even Hani's character, Lee RuDa's name is a play on words. Her name in Hangul (the Korean alphabet) is written as 이루다. This word in Korean, in this situation, can also mean 'to make something happen.' It is clear that a lot of detail has been put into this K-Drama.
This drama is about portraying youth and how they'll grow to confidently own their lives and love stories. Are you excited to watch it?