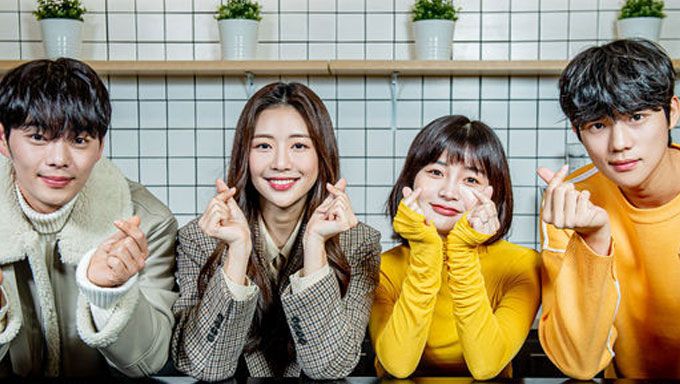 In Korea, Christmas is more of a Valentine's Day than a family day. For many, Christmas means date. As the D-Day is approaching, Playlist Studio released its new web drama "4 Reasons Why I Hate Christmas".
It is the romance drama of 2 men and 2 women who hate Christmas that meet each other and came to spend unexpectedly Christmas. For more information about the drama, don't forget to check our cast and summary here.
As of Dec. 12, two episodes are out. Here are 3 reasons why you should watch it.
1-  The only youth romance drama of December
Looking at the lineup of the drama that airs in December, there is no choice if you are looking for a youth/campus romantic comedy. "4 Reasons Why I Hate Christmas" is your only choice along with season 2 of "Farming Academy" (starting on Dec. 15 on SBS).
There are other romance dramas airing in December but there are more mature with for example "Crash Landing On You" and "Chocolate".
2- New (and handsome) actor - Mun SangMin
The cast is composed of unknown rookie actors. If you are a viewer of Playlist Studio web dramas, you would recognize the lead actress Park ShiAn who also acted in "Love Playlist".
The lead actor is Mun SangMin. He was born in 2000 and is part of Awesome Entertainment along with Park SeoJoon, Lee HyunWoo, and more. He is a student at Sungkyunkwan University in Acting and Arts Department. He previously acted in the web drama "Real High Romance 2".
His flower boy looks and soft appearance are mesmerizing.
For more of his photos, you can have a look at his Instagram.
https://www.instagram.com/p/B2v_urahLHH/
3- "Realistic" & relatable Korean campus life
If you are curious about Korea and Korean campus life, this web drama will teach you more than any other campus K-Dramas. The web drama covers current Korean university students' life and worries from a realistic angle.
For example, the idea that you should not spend Christmas alone and that you need to find someone to date for that day is one of the societal idea mentioned in the web drama.
Extra: Easy to watch with English subtitles
The web drama is from Playlist Studio which is famous for "A-Teen". Its content is easy to access and with subtitles. You can watch on Playlist Studio's YouTube or Playlist Studio's V-Live.
You can watch the first episode of "4 Reasons Why I Hate Christmas" with subtitles below.
Are you planning to start watching?
Read More : "4 Reasons Why I Hate Christmas" (2019 Web Drama): Cast & Summary