3 Reasons Why BTS 'IDOL' On MMA 2018 Was By Far Their Best Performance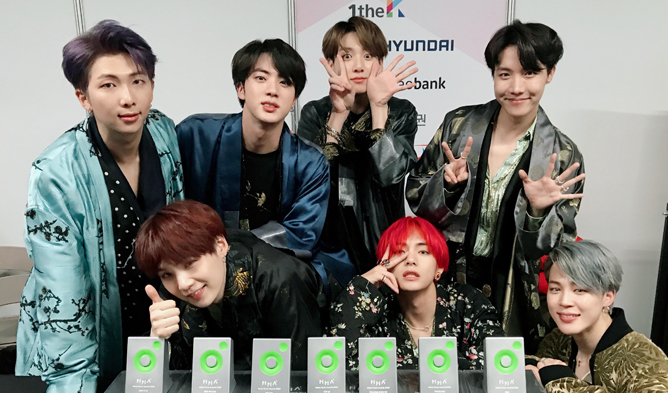 On December 1st, 2018 Melon Music Awards (MMA) took place and lots of artists and fans gathered for this occasion. To find out more on who was present, be sure to check out the lineup here.
During the award ceremony, it was noted that BTS had performed 'FAKE LOVE', 'Airplane pt 2' and also 'IDOL'. It was then when they blew away the minds of not only their fans but also the audience present.
Some fans felt that it was by far their best stage performance for many different reasons. To make things simpler, we have decided to list them down for you.
#1 Live playing of Korean traditional instruments
If you have watched the 'IDOL' stage, you would notice how in the background music there was the sound of Korean traditional instruments. Sometimes, people might think that it would most probably be pre-recorded and played but one of the performers said otherwise.
He shared on his Instagram that he had performed at the introduction of 'IDOL', specifically with the instrument called daegeum.
He also posted a picture of his backstage pass as BTS performance crew. With that being said, fans deduced that the entire instrumental team might have been playing live!
They could not help but be astonished by how well everything fit with each other.
#2 3 Jaw-dropping Korean traditional performances by BTS members
Despite their break through into the U.S., many fans are happy to see that they are not trying to 'westernize' themselves in order to fit into the market. BTS is doing their part even harder as Koreans, spreading the culture of Korea.
With that being said, during the introduction of 'IDOL', member J-Hope, JiMin and JungKook were seen using elements of Korea traditional dances in their performances.
J-Hope surprised the audience by appearing with 14 performers doing the traditional drum dance which is known as Samgo-Mu dance. In addition to that, fans pointed out how little space he had but was still able to pull off his dynamic dancing skills.
JiMin then appeared by doing a traditional fan dance called Buchae dance. He amazed the audience with his grace and elegance, executing his moves perfectly.
As for JungKook, he was doing a traditional mask dance. Fans noticed how he transformed into totally different person on stage!
#3 Synergy of BTS and ARMY
Last but not least, we also could not forget how hard ARMY was cheering for the boys. Although it an award ceremony, it appeared that a large percentage of the audience was holding the BTS light stick, army bomb.
When all 7 of them appeared on stage, the fanchants could be heard loudly and clearly. The support and love ARMY has for BTS have most probably given them a next and new level of adrenaline rush, making their stage presence even bigger than before.
Thanks to all these 3 elements, many could not help but feel that it is the best, or if not, one of the best performances BTS had done to date.
Do you agree too?
Read More : List Of End Of Year Awards & Music Festivals You Need To Know And Vote For