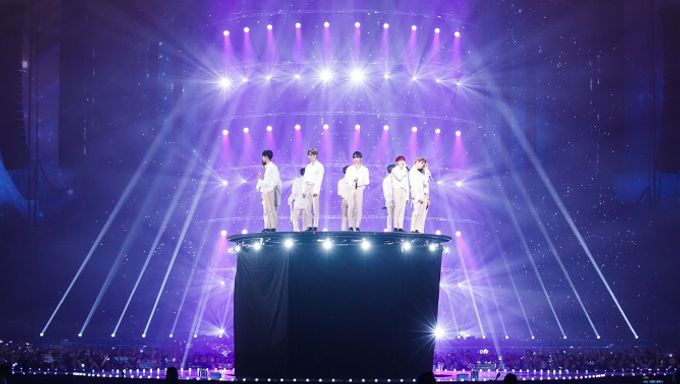 For long time K-Pop fans, you might have already heard of the term lightstick ocean.
For those who do not know what it means, it refers to large amount of fans holding their lightsticks during a concert, making it seemed as if it was an ocean. Usually, hundreds of thousands of fans attend the concert and with the lightsticks being switched on against the dark, the experience is always magical and memorable.
We have came up with 3 different reasons why K-Pop fans die to be part of the lightstick ocean.
#1 Attending the Concert
Being part of the lightstick ocean literally means attending the concert! It is never easy for international fans to attend concerts unless the idols themselves have a show in their countries! Furthermore, tickets are usually limited and such concerts only happen once in a blue moon.
#2 Experiencing the magical moment 
One of the unique parts of K-Pop is definitely the lightstick of each and every fandom. With the fact that everyone in the concert venue owes a lightstick, fans get to see the magical moment when the lightsticks glow beautifully against the dark.
For EXO fans, they call their lightstick ocean the 'silver ocean' as their lightsticks give off a white light. For GOT7, they call it the 'green ocean' and so on. Every lightstick has an unique color that is special to the fandom and idols themselves.
#3 Sharing the connection with idols
Owning a lightstick means that you are somewhat attached to the group that you are supporting. The dedication and effort fans put in to be part of the fandom is rather personal to each and every individual and indescribable to those outside the K-Pop circle.
The connection one has with a particular group or idol holds a special place in their heart.
Being able to wave the lightstick in the concert also shows how much you are supporting and loving the idols and their music. Some fans also break into tears when they noticed the massive ocean. By looking at the amount of people holding and supporting the idols just like how they are, fans could not help but feel a sense of pride to see how far their idols have come.
A bonus fact is that it is also easier for idols to identify their own fans when they hold their unique lightstick that represents their fandom!
Share with us if you have been part of a lightstick ocean below!
Read More : Fans Wow At The Custom Feature Of SEVENTEEN Official Lightstick