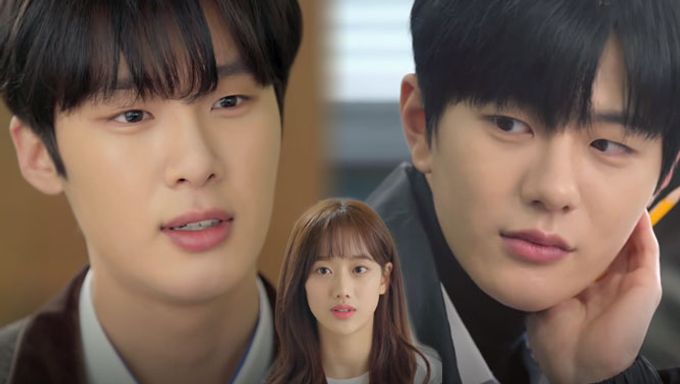 The season 2 of "A-Teen" has its load of fun for viewers. The web drama is about the worries and love stories of teens. They are going through a lot with the preparation of the SAT (college entrance exam) and this comes with a lot of choices to be made.
Currently, the season is ongoing and viewers are torn apart by the love triangle. APRIL's NaEun as Kim HaNa has two boys that like her: Golden Child's BoMin as Ryu JooHa and Kim DongHee as HaMin. Who will NaEun choose? Both boys have good qualities and it is hard to support only one of them.
Here are 3 reasons why it is hard to choose one of them. Let us know in the comment who you are supporting and why. Be aware of spoilers.
For those of you who have yet to start to drama, you can watch it here on Playlist Studio's V-Live. English subtitles are available.
1- Reliable Kim DongHee from Season 1
Kim DongHee is cute, calm, intellectual and has an innocent looking face.
He knows NaEun since last year (season 1) and they are in a complicated relationship. He cares and develops feelings for her but he has an issue with how to express his feelings and how to talk nicely to her.
At the end of season 1, he knows that she likes someone but still cannot understand his feelings. For sure, last year they was something between these two smart and model students.
In season 1, they got closer by studying together at the library. In this season 2, Kim DongHee is getting outshine by the new student BoMin. His relation with NaEun seems to be distant.
2- BoMin, Charming New Student
BoMin is charming and good-looking. He has a sweet smile and an attractive personality.
Even the burger restaurant's cashier said: "You are handsome".
He is the new student and since NaEun is the class president, she takes care of him. He has -for sure- feelings for her and does not hide his feelings. His flirting skills are of an expert level.
He laughs and smiles a lot for her. He is active in showing his feelings and expressing his concerns. Moreover, he does not fail to bring butterflies to viewers' heart with his bold action and handsome smiles.
NaEun and him are going to the same English academy so they spend a lot of time together. They also spend his birthday together, even if she noticed about it later.
BoMin also let NaEun's friends become his friends and invites them to his house to play PlayStation.
But that is not all, he also helps NaEun when she needs help such as sticking papers or when someone is criticizing her, he defends her. For example, in this scene, BoMin stopped Kim DongHee by saying "Hey, why do you talk like that?".
3- Both Jealousy and Tension
In the season 2, Kim DongHee is facing a huge issue: BoMin. The boy knows that he likes NaEun. But that is only one of his issue.
The biggest 'stress' for him is that he started to understand that NaEun is having some kind of feelings for the new student. She talks about him and she brings him to the study time they used to study the two of them.
With this, the boys' relation is getting worse and worse. Viewers were the witness of several tensed situations where they were staring at each other and harshly said to each other "I was not talking to you".
With their jealousy, viewers are even more confused who to support!
Expectations are high on how they will win her heart. Who do you think she has more chemistry with? Who are you supporting? Who do you ship?
Read More : "A-Teen 2" Is The First Web Drama Of 2019 To Reach 10 Million Views