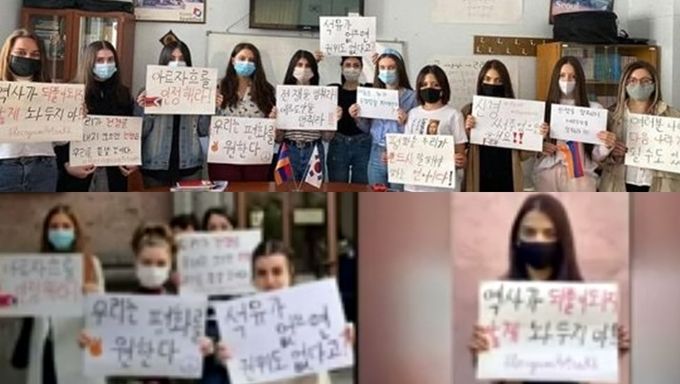 In many occasions, K-Pop fans were seen given degrading labels by those who do not know much about the K-Pop community but in recent months, there has been a new light shining on K-Pop fans. For long time K-Pop fans, you would probably know that each fandom is very united, organized especially when it comes to huge projects to support their favourite K-Pop group.
This year, the unity of K-Pop fans along with political issues such as "Black Lives Matter (BLM)" had caught the attention of media globally. Many began to notice how K-Pop fans have been spreading awareness in many different fields and some are also calling it "K-Pop activism".
With that being said, here are 3 political issues which had gained global awareness thanks to K-Pop fans.
#1 Armenia - Azerbaijan conflict
The conflict between Armenia and Azerbaijan had caused the loss of many and recently, it had caught the attention of how K-Pop fans are writing messages in Korean, in the hope of getting the attention from other K-Pop fans on the situation of the two countries.
According to a news report by JTBC, the reason for these fans to write messages in Korean is because of how Korean is the official language for K-Pop fans all over the world. While not everyone knows English, there is a high chance that other K-Pop fans might get to know the situation through Korean instead.
With the use of Korean in delivering such messages, many are realising that there are many issues and happenings in the world which deserve more attention. As such, thanks to the unity seen in K-Pop fans, many could be achieved in the near future.
#2 Thailand pro-democracy protest 
The K-Pop fandom in Thailand is incredible, considering how many talented K-Pop idols are also originally from Thailand. Some might have heard that recently, Thai locals are holding pro-democracy protest and Thai K-Pop fans from different fandoms have come together for the same cause.
It was reported by Thai daily newspaper Khaosod that K-Pop fans from other countries have raised about USD96,000.
Aside from K-Pop fans, K-Pop idols such as GOT7's BamBam, (G)I-DLE's Minnie and 2PM's Nichkhun had expressed their support on the protest and hoped that everyone remains safe.
#3 Bangladesh protest in 2018
2 years back, Bangladesh found itself undergoing mass protests after the unfortunate death of two school children in a traffic accident. More about the protest can be found through the BBC report.
Seeing how the peaceful demonstration and protests had turned violent, many locals decided to seek help from international community with the use of social media. K-Pop fans from Bangladesh were starting hashtags, hoping that it would gain the attention of K-Pop fans from other countries and also spread the happenings of their country.
K-pop stans have been donating to charities & raise awareness of social issues online for a while now like the time it helped spread the word on the death of two students that sparked protests and calls for safer roads in Bangladesh. (4/14) https://t.co/bSFLQaEg2G

— Hyunsu Yim (@hyunsuinseoul) June 4, 2020
Eventually, the government had promised to look into the reformation of road safety and harsher punishments for offenders.