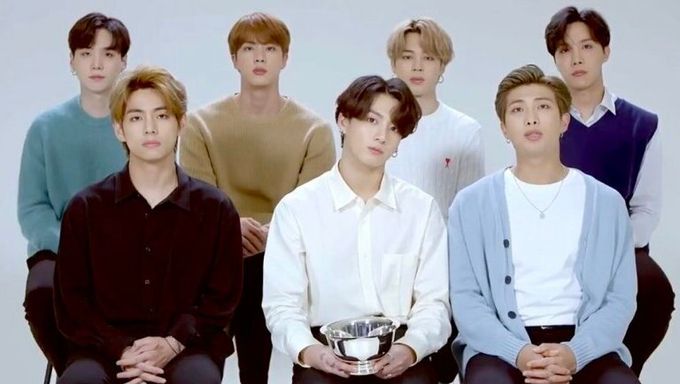 The K-Pop scene continues to be one of the biggest thing in the world at the moment, and when the market and presence is as big as it currently is, there's no avoiding politics.
In the past, K-Pop and politics never really coincided with each other.
But as idols in the K-Pop industry have become some of the most influential people on the planet, such as BTS and BLACKPINK, this means that people of different countries and political stance may have chances of clashing with each other.
It's unfortunate that politics have managed to hi-jack certain moments in K-Pop.
You can check some of these moments out below.
BTS & The Van Fleet Awards Speech
The General James A. Van Fleet Awards has been taking place every year since 1995. The Korea Society gives awards to distinguished individuals who are either South Korean or American and have contributed exceptionally for the betterment of South Korea and U.S relations.
BTS, having contributed much to this cause due to their massive popularity in the US, were awarded this honor, and the group's leader RM gave a speech commemorating South Korean and US soldiers who died in the Korean War fighting against North Korea and China.
Chinese netizens have been angered by RM's speech, criticizing the idol for....
Well, he was basically stating what had happened in history and honoring the brave lives who fought during the war right?
South Korean netizens were quite confused when they learned that the boy group and its leader were under heavy criticism from China. They defended the idol saying that he was only talking facts and that it only made sense he would be commemorating the soldiers of South Korea, their nation, and the US, their allies.
Even Japanese netizens were quite dumbfounded upon hearing how Chinese netizens were criticizing BTS. Japan, not exactly South Korea's best of friends, due to historical conflicts, would perhaps be the last nation to step up to defend South Korea?
International fans soon began to speak up on the issue as well.
BLACKPINK & Pandas
The teaser video for the final episode of the YG Entertainment girl group's video series, '24/365' showed them interacting with baby panda bears.
Chinese netizens, not too long after, began to throw massive amounts of criticism towards BLACKPINK and the zoo keepers.
The reason?
They cited a regulation that only certified professionals are allowed to be in contact with panda bears. Chinese netizens have also stated that the girl group members were wearing perfume and makeup, which goes against the regulation when handling pandas.
But how would they know if they were wearing perfume and makeup? It was the question that the girl group's fandom, BLINK, first brought up in defending the girl group.
Although the video has ever since been taken down, judging by previous screenshots, it seems that they took all pre-cautionary measures such as wearing a mask and gloves as well.
However, the funny thing is that even Chinese superstar basketball player Yao Ming, was once photographed holding a baby panda, with his bare hands too.
This caused many BLINKs to believe that Chinese netizens were playing their usual game of politics against South Korea.
One professor at a South Korean university has also suggested that the criticisms were the reaction and response to K-Pop's growing influence globally, especially in China where there are millions of fans of different idol groups.
South Korean Netizens Demanding Ban On Chinese Idols
So after the whole incident with BTS leader RM's Van Fleet Awards speech, Chinese idols not too long after began to commemorate the soldiers of China who fought during the Korean War against South Korea.
A coincidence? It happened not too long after Chinese netizens were angered by BTS's speech...
Conversely, many South Korean netizens were angered, and demanded that there be a ban on Chinese K-Pop idols.
Some of the idols who were mentioned were Lay (EXO), KyulKyung (PRISTIN), and ChengXiao (WJSN).
In response to this, many South Korean netizens also began to point out that it was North Korea who initiated the war, and China aided them later on.
So the bottom line is, in war, there really is no winner. Lives are lost and the pain and suffering that is inflicted goes down through generations. And not all nations are exactly on the best of terms with each other either. But wasn't K-Pop about bringing people together despite these differences? Fans of K-Pop come from diverse cultures and background. But bringing politics into K-Pop clearly seems to be causing a divide instead.
Hopefully, 2021 will be a better year where K-Pop continues to bring people all over the world together.