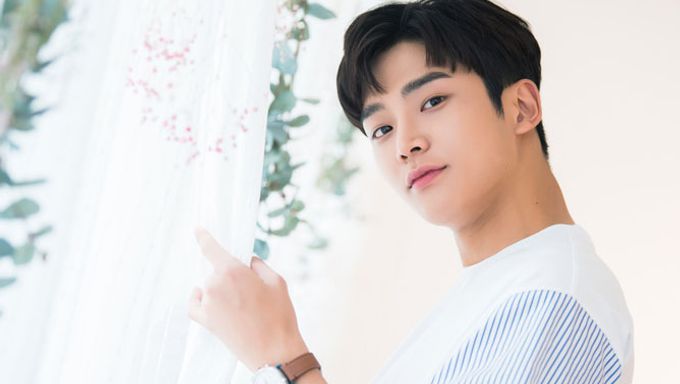 Not too long ago, it was announced that the webtoon "July Found By Chance" will be remade into a drama. The title of the drama is slightly different. It is "Haru Found By Chance" or it also can be translated as "Day Found By Chance". The official English title is yet to be announced.
The drama already promises to make the viewers heart race with sweet romance and the actors. Korean media Insight reported that the drama is a hot topic on social media and online community.
It tells the story of a girl who realizes that she is a supporting character inside a romance manga named "Secret". She tries to change the fixed story for her love and life.
The drama will broadcast in September on MBC. There is, therefore, quite a lot of time left before the broadcast but the actors are already catching attention. The average height of these 4 handsome boys is 186 cm!
For more information about the drama and webtoon, check our cast and summary here.
1- SF9's RoWoon as Haru / 190.5 cm
RoWoon's popularity as an acting-dol has been rising. He was born in 1996 and is 190.5 cm. His height is subject to a lot of talks, according to himself he is 190.5 cm.
파리에서 찍었던 사진 천천히 올려야지~#SF9 #ROWOON pic.twitter.com/wlRPCirYaK

— SF9official (@SF9official) May 21, 2019
2- Actor Jung GunJoo as Lee DoHwa / 187 cm
Jung GunJoo is part of the JYP actors. He was born in 1995 and is 187 cm.
https://www.instagram.com/p/Bx4GT0Bnbb-/
3- Model Kim YoungDae as Oh NamJoo / 185 cm
Model Kim YoungDae was born in 1996 and is 185 cm. He previously acted in some dramas including "Item" (2019).
https://www.instagram.com/p/BvffhijnfpA/
4- Actor Lee TaeRi as Fairy JinMiChae or Fairy Dried Squid / 181 cm
Lee TaeRi is a well-known actor born in 1993 and is 181 cm. He previously acted in dramas such as "Rooftop Prince" (2012), "Splendid Politics" (2015), and "The Beauty Inside" (2018).
https://www.instagram.com/p/Bpg188ah84R/
Read More : "July Found By Chance" (2019 Drama): Cast & Summary