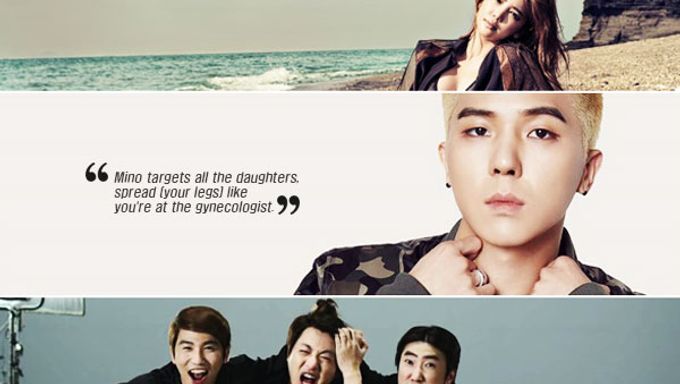 This year was especially issued about the celebrities' abusive languages.
Don't cry over spilt milk. The celebrities should be more careful for their words and behaviors because they got tremendous attention by public. Celebs, it is hard to do, but always try to be responsible and careful.
Too naughty : "Spread your legs!" by Yoo Hee Yeol and Song Mino 
- Yoo Heeyeol, "Spread your legs." 
In last April, Yoo Hee Yeol held TOY's solo concert, 'Da Capo', in Seoul. What he said to audiences was controversial. He said, "Please spread your legs you all sitting on the front line. It will give me power.", but soon, added, "It was all to open your mind to absorb music, you know?" However, the Yoo's comment was spread out through online, and became a problem. Two days after he finished his concert, he posted an apology that he was very careless.
- Song Mino, "Spread your legs like in front of gynecologist."
In last July, coincidentally, WINNER's Song Mino got controversy about his similar comment like Yoo did. In the TV show, 'Show Me The Money 4', some lines of Song Mino's rap were the trouble. "MINO targets all daughters. Spread your legs, gilrs, as if you sit in front of gynecologist. Korea Gynecology Association criticized MINO about his controversial lines. They asserted that MINO's rap degrades gynecology hospital as the room, in which women spreading their legs to men, and KGA expressed their regret about it. MINO, soon, posted apology about his rash attitude and promised that he would never do such a thing. KGA accepted his apology and the controversy was all settled.
Must Read : WINNER Song Mino Apologizes for Lyric of Free Style Rap
The worst : Ongdalsaem's obusive language
The most nasty words, which approached at the highest risk, were by the intimate comedian club, Ongdalsaem (Spring) of Jang Dog Min, Yoo Se Yoon and Yoo Sang Moo.
Jang Dong Min reached at the peak of his popularity in the early 2015 before his troublesome words were discovered. He was the most effective candidate for 'SIX Man', the project to pick an official member for 'Infinite Challenge'. However, his race was stopped by his words degrading females during the internet pod past broadcasting "Dreaming Radio with Ongdalsaem". It was too abusive to bring up. Numerous people got shocked and started to deny to see them on TV. They apologized soon, but could not turn their fans back. Finally, they decided to withdraw from all programs they were on. However, for Jang Dong min, it seems to never end. His another misbehavior was discovered. While he was appearing at Internet Broadcasting program, he said, "there is a club pursuing health in which the club members consume urine. Thus, one of the survivors from the collapse of the Sampoong Department Store, could keep her life by consuming her own urine under the collapsed building for days." This offended the survivor, and she sued him. Jang Dong Min visited her with his hand written apology letter. In the end, the survivor dropped the charge with a message, "Hopefully, Jang dong min's sincere in the letter would not change." After having some time for self-restraint, the three all came back on TV.
The girls' fighting : Lee Tae Im's curse on Yewon of the controversy
The most HOT issue in the early 2015 was the controversial Lee Tae Im's use of abusive language toward Yewon, Jewellery, in the middle of shooting TV program 'My Young Tutor'. In Feb, her being offensive to Yewon was discovered through numbers of media, so she had to withdraw from all programs and movies that she was working on with an apology to Yewon. However, when the videotaped conversation between those two girls was released, it was more shocking.
Until then, Yewon was considered as a victim, and she actually pretended there was nothing wrong with her. Nevertheless, Yewon's being nasty to Lee Tae Im was unfolded. In the video, Yewon said "Sis, you don't like me, right?" and she spoke impolitely. The public got upset about Yewon's lie and hypocritical acting, and made all things to her advantage. Yewon posted her hand written letter to apologize to Lee Tae Im and suspended all of her activities.
After having time for self-restraint, Lee Tae Im came back with SELF DIS and apology to Yewon.
Must Read : Actress Lee Tae Yim dropping the swear words to Yewon
Must Read : 10 Things: K-Pop Idols Who Offended Korea About Japan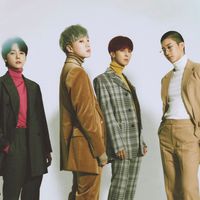 Became a fan of WINNER
You can now view more their stories