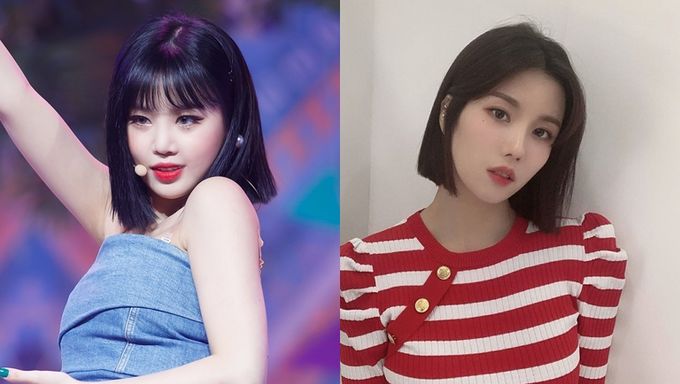 Just a day ago, Kpopmap had covered 4 different female K-Pop idols who were seen recently styling their hair by braiding colourful hair pieces onto their real hair.
Aside from the rising trend, we had also noticed 4 other female K-Pop idols who had decided to cut their hair short to about their shoulder length. The change in hairstyle definitely gave them fresh, new look!
Take a look below!
#1 (G)I-DLE's SooJin
SooJin is currently promoting 'DUMDi DUMDi' on various music shows after her comeback with (G)I-DLE and her new hairstyle had also gained the attention of many. Since debut, SooJin had all along had long hair with several changes in the hair colour.
Through this comeback, it looked like SooJin had decided to cut it short and simple.
#2 WJSN's BoNa
BoNa from WJSN is causing many of her fans to fall head over heels thanks to the fresh and new hairstyle she is rocking! She looks innocent and youthful after cutting her hair and many are complimenting how well it suits her too.
#3 Weki Meki's YooJung
Cheerful and energetic YooJung from Weki Meki is also spotted recently with her new hairstyle. It is shorter than before and fans are loving the look on her too. It seems like no matter what kind of hairstyle she does, YooJung will be able to pull it off.
#4 IZ*ONE's EunBi
Many were surprised when EunBi had uploaded photos of her new look! Her hair length now is just slightly above her shoulders and fans are loving her new hairstyle.
Are you also loving how EunBi is sporting the new look?