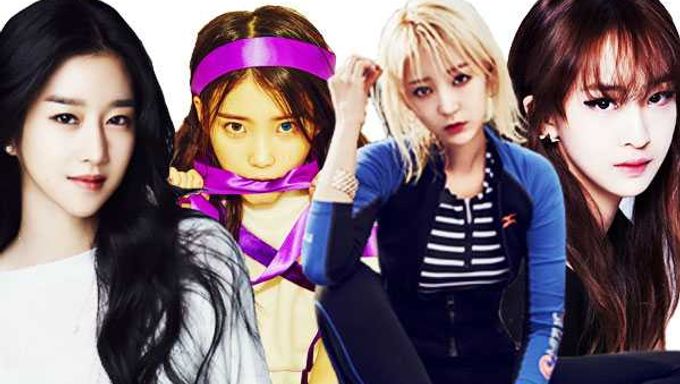 What would you feel if your bias suffers from anonymous nasty comments?
Like Light and Shadow, many celebrities are loved by tremendous numbers of fans, but simultaneously, hated by anti-fans. It was discovered that most of the anti-fans have no specific reason to hate them, but just to relieve stress or to make fun, the netizens do not stop attacking the stars. The level of their slanders are far beyond forgivable range. Indeed, many stars killed themselves after suffering from excessive internet bullying for considerable time. To prevent such tragedies, we should concern which stars suffer from the malicious comments.
Must Read : We Are Family: 5 Star Families Compilation
Kpopmap has compiled 4 female celebrities' recent stories about internet bullying.
Dasom – It's better to die.
Dasom, of SISTAR, begged netizens to stop posting malicious comments on her SNS. She posted, "Can't stand malicious comments anymore. I have endured for last 6 years, but can't be patient about curses on my parents on my dad's birthday. It's better to die." Also she published messages she exchanged with a certain netizen. The netizen's message was filled with worst nasty words against Dasom.
Hyerin – Sorry for my misspelling.
Hyerin, of EXID, apologized to one netizen about her misspelled posting. Previously, Hyerin posted her own thought and thanks to fans for being ranked number 1 at k-pop TV show. However, her writings included a couple of misspelled words, and the netizen criticized her about her mistake with a rude language. Soon, Hyerin apologized her mistake and corrected her original posting. Other netizens criticized the one who corrected Hyerin that it is so bad to speak to Hyerin rudely.
Seo Ye Ji – Can't forgive you!!
The beautiful young actress, Seo Ye Ji, chose a hard game to punish her anti-fans, who have continuously posted malicious comments toward her. The internet bullying was beyond normal range. Seo Ye Ji has been suffered from nasty comments containing numerous insults, unfounded ugly rumors about her, and dirty sexual harassment. Her agency hired lawyer to sue the netizens, and announced its stand officially.
IU – Law will punish you.
IU sued numbers of netizens who have spread out false fact and composite pictures of her on various online communities. According to Seoul Gangnam Police department, the attorney of IU attended to sue 82 netizens for defamation. The massive data containing composite pictures and personal attack comments as an evidence.